David Tudor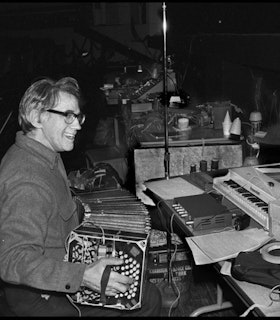 Biography
David Tudor was a pianist and experimental music composer who pioneered the creation of live electronic music in the mid-1960s. In the early 1950s, at Black Mountain College and in New York, he formed relationships with FCA co-founder John Cage, Merce Cunningham, Robert Rauschenberg, and Christian Wolff.
Tudor performed many early works by John Cage, Christian Wolff, Morton Feldman, Earle Brown, Karlheinz Stockhausen, Stefan Wolpe, and La Monte Young. Many of these composers wrote pieces expressly for Tudor and he worked closely with Cage to develop many compositions. He became the pianist for the Merce Cunningham Dance Company and he and John Cage toured during the 1950s and 1960s with programs of Cage's works. Tudor performed the American premiere of Pierre Boulez's Deuxième Sonate pour Piano and premiered Cage's Music of Changes, Concert for Piano and Orchestra, and 4'33". Following Cage's death in August 1992, Tudor assumed the post of Music Director of the Merce Cunningham Dance Company. Tudor's last work for Cunningham was Soundings: Ocean Diary, the electronic component of the score for Ocean (1994).
Tudor's early works include, Reunion (1968), a collaborative piece with John Cage, Lowell Cross, Marcel Duchamp, and Gordon Mumma; and Bandoneon! (a combine) (1966), a composition New York City's "Nine Evenings, a project of Experiments in Art and Technology (E.A.T). Tudor was one of the core artists who collaborated on the design of the Pepsi Pavilion for Expo '70 in Osaka, Japan as Experiments in Art and Technology, Inc. His discography as a composer includes Microphone (1973), Rainforest IV (1973), Indeterminacy: New Aspect of Form in Instrumental and Electronic Music (1992) recorded with John Cage; Neural Synthesis Nos. 6-9 (1995); and Three Works for Live Electronics (1996). From 1974, Tudor was a founding member of Composers Inside Electronics, a music ensemble whose members perform compositions for which they built the electronic circuitry. Tudor's final project was a collaboration with visual artist Sophia Ogielska, titled Toneburst: Maps and Fragments.
Tudor received early grants from FCPA in 1970 for $2,000 to support a performance, and 1988 for $7,500 to cover a medical emergency. In 1992, shortly after Cage's death the Foundation created the $50,000 biennial John Cage Award and named Tudor its first recipient.
Tudor studied with H. William Hawke, Irma Wolpe Rademacher, and Stefan Wolpe. He was a pianist-in-residence and instructor at Black Mountain College from 1951 to 1953. Tudor taught at the Internationale Ferienkurse für Neue Musik, Darmstadt from 1956 to 1961, where he worked with, and influenced, Karlheinz Stockhausen, Cornelius Cardew, and other members of the European avant-garde.