DD Dorvillier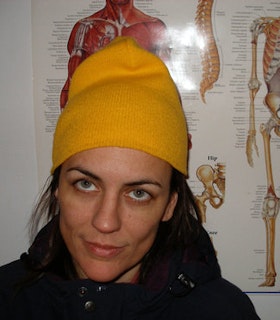 The news about the grant had a great impact. It gave me a huge boost of confidence and energy, when I needed it most. It was immediately easier to stop worrying about money and pour my energy into the work at the most crucial moment… These funds gave me leverage and confidence in terms of my capacity to stay in New York at a time when leaving seemed like a smart self-preserving decision, due to the financial, artistic, and political challenges I had been experiencing surviving as a choreographer in America.
- DD Dorvillier, January 11, 2008
Artist Statement
Getting away from self-expressiveness, from projecting meaning, elucidating content beyond the immediate context of an action and doing so in the most difficult way possible, by using the body and even typically dramatic and expressive conditions—these are characteristics of my current working tendencies and processes. I work with thinking and corporeality.
Though I have been recently using a variety of media and technologies, cinema, sound installation, drawing, and sculpture, my inquiry generally springs from questions about the perception and representation of the body, human presence, and my own subjective relationship to "dance." I am fascinated by the phenomenon of language, and its subsequent breaks, and failures. The body is the obvious and perfect bridge in those impossible gaps. Thinking is the fluid that lubricates the bridge.
Meaning is essential, but I believe that it is something that arises in tandem with the process, not as an arbiter of form. The dialogue between meaning and form is dynamic and mercurial. It's an old idea that the crystallization of form in action does not need to be contingent upon a pre-emptive understanding of its purpose, but it seems to still be an issue.
I see the work that my global community of artists who think has to do in the field of dance and live performance, and it is an infinite terrain of exciting possibility. I believe this potentiality, that resists a paradigm of artistic success or failure, is a crucial and liberating substance for our culture and society today.
- December 2006
Biography
DD Dorvillier is a dancer and choreographer who has created and performed work internationally. Her practice is based in physical, conceptual, and philosophical approaches that challenge conceptions of dance and choreography. In 1991 Dorvillier created the Matzoh Factory, a studio dedicated to experimentation in the arts, with dancer and choreographer Jennifer Monson. In 2000, Dorvillier founded human future dance corps to support her individual work and collaborations.
Dorvillier's choreographic pieces include Dressed for Floating (2002), Coming Out of the Night With Names (2004), and No Change or "freedom is a psycho-kinetic skill," (2005). Her 2007 FCA grant supported the work Nottthing Is Importanttt (2007) with music by Zeena Parkins, which premiered at The Kitchen.
Subsequent to her 2007 Grants to Artists award, Dorvillier created Danza Permanente (2012). For Danza Permanente, Dorvillier collaborated with Zeena Parkins to transpose Beethoven's String Quartet no. 15 in A Minor, op. 132 into embodied movement for four dancers. Danza Permanente premiered at the Kitchen as a part of French Institute Alliance Française's Crossing the Line festival.
Her work has been presented in New York at Chashama, Danspace Project, Performance Space 122, and New York Live Arts, as well as internationally at ImPuls Tanz Festival, Vienna; Kaaitheater, Brussels; Rencontres Internationales Chorégraphiques de Seine-St. Denis, Paris; and Tokyo Dance Biennale, among others.
Dorvillier's 2007 FCA grant funds also supported a rehearsal residency at Performing Arts Forum in St. Erme, France. Since her 2007 Grants to Artists award, Dorvillier has been recognized with a 2011 John Simon Guggenheim Memorial Foundation Fellowship, a Creative Capital award (2013), and a Doris Duke Artist Award (2013). Dorvillier received MAP Fund Grants in 2004, 2006, and 2013, a New York Dance and Performance "Bessie" Award for Dressed for Floating in 2003, and a 2000 New York Foundation for the Arts Choreography Fellowship.
Dorvillier graduated with a B.A. in Dance from Bennington College in 1989.