Heather Kravas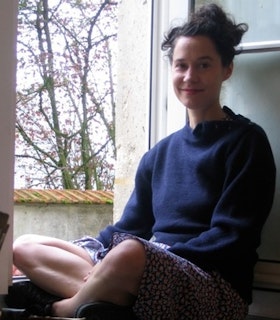 To receive support from this esteemed organization inspires me to not merely continue, but to proceed with a heightened commitment to the very risk and determination for which the Foundation recognizes.
- Heather Kravas, December 12, 2014
Artist Statement
I consider myself part of a tradition of experimental artists who rigorously investigate form and the body as a means of expression. I am committed to discovering ways to activate curiosity and examine the relationships between art, power, agency, and desire. In contemplation of things despised and misunderstood, I create space where beauty may be regarded as a relative experience rather than unobtainable condition. I explore the limits of taste, our perceptions of time, and the limits of the body to distill and reflect something vital about the brutal and beautiful condition of being alive.
My choreography combines recognizable traditions, mundane tasks, and image-guided kinesthetics. Neither spectacle nor entertainment, I create difficult performances that test traditional notions of dance. Dwelling on the edges of boredom, static, din, and excess they do not seduce, but incite, and are a criticism to the ways we are encouraged to consume information. Through deliberate stillness and insistent repetition, my work demands one to think slowly, recognize difference, and examine the processes of evaluation itself. The failings of perfect reiteration interest me. Excessively organized, my dances grapple with inevitable disorder. While continually mining the formal possibilities of choreography, I ultimately believe abstract structures can both mirror and contradict our personal experiences.
- December 2013
Biography
Heather Kravas is a choreographer and performing artist. Since 1995, she has investigated choreographic, improvisational, and collaborative practices to explore the limits of dance as a contemporary art form. Combining recognizable traditions, pedestrian tasks, and image-guided kinesthetics, she uncovers the historic and social structures of dance to examine the form itself. Her current project, the women, "presents a series of overlapping actions and emotional states that could be regarded as constitutionally female. Culled from a choreographic language associated with her prior work—balletic grammar, repetition, popular dance, punk—this cacophonous world of women's labor steals, mocks, and lionizes artistic signature."
Kravas's varied collaborations include choreography with Canadian/European artist Antonija Livingstone (2003-2008) and extensive improvisation with cellist Okkyung Lee as the nono twins (1999-2004). She has worked as an interpreter and rehearsal assistant for DD Dorvillier's human future dance corps (2001-present) and has also performed in the work of Marina Abramović, Jennifer Allen, Amy Cox, Dayna Hanson, Amii LeGendre, and Yvonne Meier. Her own choreography has been presented at venues including Chez Bushwick, Dance Theater Workshop, Danspace Project at St. Mark's Church, The Kitchen, Movement Research at Judson Church, On the Boards, Performance Space 122, and Tonic.
Subsequent to her 2014 FCA grant, Kravas was honored with a Doris Duke Performing Artist Award (2015). Prior to receiving her 2014 Grants to Artists award, Kravas received a grant from the Rockefeller MAP Fund (2013), a National Performance Network Award (2013), a King County 4Culture Project Award (2013), and was an artist-in-residence at PACT Zollverein, Germany. Kravas studied classical ballet and the experimental teachings of Jerzy Grotowski with Deirdre Wilson.