Ishmael Randall Weeks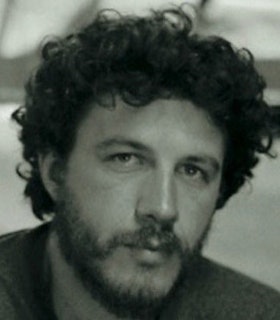 At the time that I received the award I found myself $10,000 in debt borrowed to complete a show in January 2006. I spent some of the grant to pay back part of that loan and then spent the rest to 'produce' two large-scale shows in Lima… The award has simply been a miracle in enabling me to continue with the projects of my choosing. It has awarded me the time and space to be incredibly productive and creative.
- Ishmael Randall Weeks, January 2007
Artist Statement
My work encompasses site-specific installations, sculpture, video, and works on paper. In these works, issues of urbanization, transformation, regeneration, escape, collapse, and nomadic existence have been predominant. While the work in the drawing studio serves as a means for a more intimate exploration of these issues, the foundation of my larger-scale work lies in the alteration of materials and environmental debris, often on site (including such source materials as books and printed matter, empty tins, old tires, bicycles, boat parts, and building construction fragments) that are often altered to create sculptural objects and architectural spaces. These works take the visual form of functional objects while stripping them of their productivity to address notions of labor and utility, forcing an examination of our understanding of culturally specific forms while simultaneously exploiting and adapting their particular codes and associations.
- December 2014
Biography
Ishmael Randall Weeks creates works on paper, sculpture, and mixed media installations that often incorporate found and recycled objects.
Randall Weeks presented his work in group exhibitions at the Fisher Art Center in 2000 and Art Space in Berlin in 2004. He had a solo exhibition at Match Art Space in 2004. With funds from his 2006 Grants to Artists award, Randall Weeks produced the show Estructuras, Simulacros at the Herman Kruger Espantoso Gallery in Lima, Peru, curated the group exhibition Cambios Estructurales at the Museum of San Marcos, and produced work for the group show Arte y Urbe at the National Museum of Peru.
Subsequent to his 2006 FCA grant, Randall Weeks' work has been the subject of solo exhibitions at Eleven Rivington, Arróniz Arte Contemporáneo in Mexico City, and Museum of Contemporary Art of Rome (MACRO). Solo exhibitions of his work have been shown in Peru at Galería Lucía de la Puente, Revolver Gallery, La Ex-Culpable, and Proyecto AFUERA. In 2013, The Drawing Center held an exhibition of works that Randall Weeks created by burning, puncturing, cutting, and drawing on found slides to develop a narrative response to Peru in the 1970s and 1980s, a time of political and social unrest in the country.
Since receiving his 2006 Grants to Artists award, Randall Weeks has also presented his work in group exhibitions internationally at museums and galleries, including Greater New York at MoMA PS1 (2010), The Museum of Arts and Design, The Bronx Museum of the Arts, Museum of Fine Arts Boston, Middlesbrough Institute of Modern of Art, Contemporary Art Museum Lima (LiMAC), Yerba Buena Center for the Arts, Spanish Cultural Center in Buenos Aires (CCEBA), The Lima Art Museum (MALI), The Fondazione Cassa di Risparmio di Modena in Italy, The Drawing Room in London, Lehmann Maupin Gallery, La MaMa Galeria, and Museo Palacio de Bellas Artes in Mexico City. His work was also been included in the 9th Cuenca Biennial (2007), the 10th Havana Biennial (2009), and the 6th S-files Biennial at the Museo del Barrio (2011).
Since receiving his 2006 FCA grant, Randall Weeks has been awarded an Art Matters Foundation Award (2008), a Sculpture Space Residency (2008), a Residency at La Curtiduria in Oaxaca, Mexico (2009), a New York Foundation for the Arts Grant (2011), and a Museum of Contemporary Art of Rome Residency (2012). Prior to his 2006 Grants to Artists award, he was a Vermont Studio Art Center Fellow (2003).