Jen Rosenblit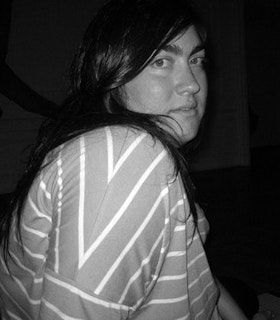 The perspective of the grant has allowed me to open my eyes a bit larger… I have deepened my commitment to the craft and my body. I want to approach the economy with expanse of curiosity rather than a fixed place that is not financially stable. I recall sitting next to Tere O'Connor at the [2012 Grants to Artists] award ceremony in the Merce Cunningham Studio as he patted my knee saying he was so proud of me. It might sound silly, but I feel like I got a bit more out of this than $25,000 can buy.
- Jen Rosenblit, January 2013
Artist Statement
My work is a conversation between energetic states in the body and conceptual discourse directly involving the body. Queer theory and bodies, a feminist lens, and the politics of dance, both formal and experimental, are inside of my research. This conversation builds on the complex relationship of the rebellious nature of the body as it negotiates embodiment, repetition, disruption, narrative, and memory. The desperation between fleeting tragedies and bizarre humor acts as an active location for the body, as well as bodies in relation to one another. My work departs from preciousness and sentimentality in hopes of locating a more potent relevance for how we read and relate to aesthetics and bodies experiencing time passing and objects in space. I am concerned with detaching and reapplying visual histories, how time and situational tendencies can assume familiar outcomes, and the way that one thing tolerating the next becomes a rule for how we occupy time. My concepts and movement structures at times dissolve each other. I am often lost and not so sure of what it is I am doing or where I will land. I am reaching for a more heightened subtlety of experience by engaging sensation with visual information. I'm not sure if my work is about anything more than the multiplicity of the body. I'm building space for the viewer to experience indentation, for eyes that find molding and packaging, or the revealing versus concealing of utility, as important as a love story.
- December 2011
Biography
Jen Rosenblit has been making dances and teaching workshops on improvisation, choreography, and performance in New York City since 2005. She has worked extensively with performer Addys Gonzalez over the past ten years creating many duets and small group works. Rosenblit's works locate spaces for being with the audience in a contemplative theatricality, focusing on an improvisational approach to choreographic thought, and ways of structuring bodies as they fall out of relation aesthetically and spiritually while still locating ways of being together.
Rosenblit has presented work at The Kitchen, New York Live Arts, Danspace Project, Dance Theater Workshop, Movement Research at Judson Church, and Dixon Place. As a performer, Rosenblit has toured internationally with Young Jean Lee (Untitled Feminist Show), performed for Ryan McNamara (MEEM), Yvonne Meier (The Shining), Sasa Asentic (On Trail Together), and currently with Simone Aughterlony. In 2012, with support from her Grants to Artists award, Rosenblit premiered In Mouth at New York Live Arts and Pastor Pasture at ISSUE Project Room.
Subsequent to her 2012 Grants to Artists, Rosenblit was a Fellow at Insel Hombroich, Germany (2013) and 2014-2015 workspace artist through Lower Manhattan Cultural Council. Rosenblit was 2014 recipient of a New York Dance and Performance "Bessie" Award as emerging choreographer for her work, a Natural dance, which premiered at The Kitchen in May 2014, and she received a 2014 Emergency Grant from FCA to cover the costs of materials, artist and stage manager fees, for this work. Prior to her 2012 FCA support, Rosenblit was a Fresh Tracks Series at Dance Theater Workshop Artist (2009), and she received a Dance Theater Workshop Suitcase Fund Award (2010).
Rosenblit has taught improvisation and performance independently in New York through CLASSCLASSCLASS and Movement Research. She has been a visiting teaching artist at Bowdoin College, Hampshire College, Amherst, Massachusetts; Hollins University, Roanoke, Virginia; Roger Williams University, Bristol, Rhode Island; and Bennington College, Bennington, Vermont; and has held lecture demonstrations on performativity at both Yale and Harvard. Rosenblit's Lunch N Lecture was curated by BODEGA at the Institute of Contemporary Art, Philadelphia, as part of their First Among Equals series.