Jennifer Walshe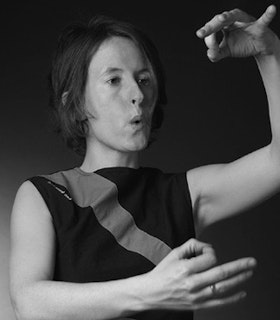 The first major expenditure I made was on equipment... To have a brand-new working station with fully updated software and an excellent microphone to record with is phenomenal... I have been able to build up my own reference library about different instruments; it helps hugely when writing for extended techniques... This grant has made a huge difference to my working life, both this year and in terms of the opportunities it will continue to give me. I appreciate it enormously.
- Jennifer Walshe, January 15, 2008
Artist Statement
In one story, Fionn Mac Cumhail, legendary hero of Irish mythology, intercedes in a discussion about music. "The finest music," he declares, "is the music of what happens." What happens can be badly-played air guitar, the forced whisper of your neighbors arguing, a violin prepared with card and clothes-pegs, a hurling commentator with a pungent Kerry accent, a brass band playing by the sea during a storm, the soft crunch of eggshells, a drunk howling on the night bus, the inaudible glissandi of feathers floating slowly down. I listen to and watch these sounds. They get soaked up, thought about, processed. Then I write pieces for passive-aggressive choir, procedures for smoothing air, an opera for Barbie dolls, ceremonies to placate dead drum solos, a sci-fi opera where the singers only make animal sounds, string orchestra pieces which behave as if the instruments were icebergs and frozen rain, cello solos which take place in the 1970s, indexes of hundreds of pop songs discharging in a minute, chamber music for water sprays, shoelaces, and vitamin tablets.
- December 2006
Biography
Jennifer Walshe is a composer, improviser, and performing vocalist. She uses "extended techniques" in her vocal work. Walshe's compositions are often commissioned for her voice and other instruments, and her work has been performed and broadcast worldwide by ensembles such as Alter Ego, Italy; the German groups ensemble chronophonie, ensemble Intégrales, ensemble recherche, Ensemble Resonanz, Neue Vocalsolisten Stuttgart, Schlagquartett Köln, and Solistsenensemble Kaleidoscope; the Irish groups The Callino Quartet, Concorde Contemporary Music Ensemble, Con Tempo Quartet, the Irish Chamber Orchestra, the Irish Youth Wind Ensemble, the National Symphony Orchestra of Ireland; ChampdAction, Netherlands; the Rilke Ensemble, Sweden; Bozzini Quartet, Montreal; and the United Kingdom's the Hebrides Ensemble, Psappha, and the Scottish Chamber Orchestra Wind Quintet, among others.
Prior to receiving her 2007 Grants to Artists award, her works had been performed (by herself and others) at festivals including SoundField, Chicago (2002); Wien Modern, Austria (2003, 2004, 2007, 2013); Ultraschall, Berlin (2004); Ars Musica, Brussels (2005); and RTÉ Living Music Festival, Dublin (2006). She has received commissions from organizations including Germany's Westdeutscher Rundfunk (2001), Musik der Jahrhundert (2006), and the Dresden Semper Opera (2006); and Ireland's Project Arts Centre (2001); The National Concert Hall (2001); the Irish Chamber Orchestra (2002); and Crash Ensemble (2002, 2005).
With the support of her 2007 Grants to Artists award, Walshe created a short film, The Faerie Queene (2010), and recorded an EP, Libris Solar (2011), both under her alter ego Freya Birren. Since receiving her 2007 FCA grant, Walshe has been commissioned by Maerzmusik (2007) and has performed at Performa (2007); Ultima, Norway (2009); the Huddersfield Contemporary Music Festival, West Yorkshire (2011); Cut & Splice, London (2011); the Internationale Ferienkurse für Neue Musik Darmstadt (2014); Donaueschingen Festival, Germany (2014); and MATA, New York (2014).
After receiving her 2007 FCA grant, Walshe, was awarded the Praetorius Music Prize for Composition by the Niedersächsisches Ministerium für Wissenschaft und Kultur (2008). She has since received commission awards from the New Music Scheme of the Arts Council of Ireland (2008, 2009, 2010, 2012). Before receiving her 2007 Grants to Artists award, Walshe participated in residencies and fellowships at Akademie Schloss Solitude Stuttgart (2003-2004); National Sculpture Factory, Cork (2003-2004); and DAAD Berlin (2004-2005. Walshe won the Kranichsteiner Musikpreis at the Internationale Ferienkurse für Neue Musik in Darmstadt (2000), received two commission awards from the New Music Scheme of the Arts Council of Ireland (2001, 2002), received first prize in the SCI/ASCAP Commission Competition (2002), was shortlisted from the Gaudeamus Foundation composition prize for her work moving in/love songs/city front garden with old men (2002), and was shortlisted for the Gaudeamus International Composers Award for her piece been in a room and a room and a room and a room (2003).
Walshe studied composition with John Maxwell Geddes at the Royal Scottish Academy of Music and Drama in 1997 and she earned a Ph.D. from Northwestern University in 2002, where she studied with Amnon Wolman and Michael Pisaro. She is Chair in Music at Brunel University London.