Michael Pisaro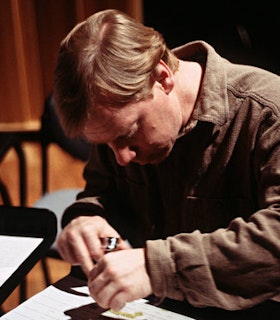 The Foundation for Contemporary Arts grant allowed me to pursue in detail a few of the long-term projects I had begun before receiving the grant...the grant has enabled me to bring these large-scale projects further: to think in larger terms, and to follow up on these ideas.
- Michael Pisaro, January 2007
Artist Statement
I often have the feeling that I am looking for a kind of boundary within music. That would be a place not at the definitional borders, between what is and not music, but someplace internal to music. The model for this, in my mind, is the Dedekind cut, which in effect opens an infinitesimal gap in numerical space between what lies above and below, without closing the infinite space between them. (Thus lies between 3.1415 and 3.1416 and identifies between these numbers an infinitely refined mathematical object.)
It sometimes seems like an impossibly small space in which to operate: for instance, at a location just above and below musical raw material: chords, scales, durations, silences, performance practices, etc. Sometimes, a very narrow pathway through this space leads me to what feels like a new world, where I find the possibility of suggesting a music that is present in its absence and vice versa.
- December 2005
Biography
Michael Pisaro is a composer and guitarist. He is a member of the Wandelweiser Composers Ensemble and often uses silence as a compositional technique. Pisaro has composed over 80 works for different instrumental combinations, including several pieces for variable instrumentation.
Many of Pisaro's pieces are solos, including pi (1-2954) (1998), a collection of fifteen solos for piano that each set a certain number of decimal place of pi. Pisaro performed pi in installments at Evanston, Illinois in 1999 and in Düsseldorf, Germany in 2000 to 2001. Prior to his 2006 Grants to Artists award, Pisaro released the albums here (2) (1996) and mind is moving (2001). His 2006 FCA grant supported the recording of Transparent City (2007) and research for future projects. He also performed and recorded his harmony series (2004-2006), in which each piece is written for a poet, with funds from his FCA grant. His discography subsequent to his 2006 Grants to Artists award includes an unrhymed chord (2008), Decentred (2009), and Hearing Metal 1 for recorded tam-tam (2009).
Pisaro's work has twice been selected by the International Society for Contemporary Music to be performed at World Music Days festivals, in Copenhagen (1996) and in Manchester (1998). He has participated in festivals such as the International Computer Music Conference, Hong Kong; INSTAL, Glasgow; Cutting Edge, London; Wein Modern, Vienna; and New Music Chicago. His work has been performed widely in the United States and Europe. He has performed many of his own works; those of composers including Antoine Beuger, Kunsu Shim, Jürg Frey and Manfred Werder; and works from the experimental tradition, especially John Cage, Christian Wolff, Robert Ashley, and George Brecht.
He has been a composer-in-residence at Künstlerhof Schreyahn in Germany, Forumclaque in Switzerland, Mishkenot Sha'ananim in Israel, EarTalk in Greece, and Birch Creek Music Festival in Wisconsin.
Pisaro earned his B.M. from DePaul University and his M.M. and D.M. from Northwestern University. He taught music composition and theory at Northwestern University from 1986 to 2000. Pisaro is a professor of Composition and Experimental Sound Practices at the California Institute of the Arts.