Jonah Bokaer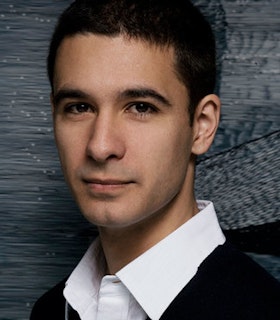 Having the resources of the FCA grant allowed me to make the substantial leap from a solo choreographic practice into assembling a group of dancers to pursue group choreography. The decision to work with a group of dancers was a necessary one, and the grant gave me the ability to pay other performers, making this transition possible. With this in mind, the FCA grant has catalyzed a new realm of artistic possibilities for my craft.
- Jonah Bokaer, January 2006
Artist Statement
Over the past several years, I have developed a body of work addressing the creative potential of digital technologies in movement production. I often create choreography by rendering a virtual body in the built domain, employing motion capture, digital animation, 3D modeling, and choreographic software to generate movement material. "Choreography" involves designing a body onscreen, embodying its movements in real time, and performing the choreography live.
While developing this new artistic practice, I frequently question (and subvert) the spaces in which my work is performed, creating site-specific installations that playfully critique the venue presenting a dance. This generally involves a visual or sonic intervention in the periphery of each individual venue.
I am also deeply committed to fostering interdisciplinary dialogue with artists across media. With this in mind, I have established a cooperative studio space in which artists can congregate, develop ideas, and present work in a catalytic environment. I am interested in bringing innovative new work into direct conversation with contemporary thought and culture.
- December 2005
Biography
Jonah Bokaer is an international choreographer and media artist. His work, which integrates choreography with digital media, is often the result of his cross-disciplinary collaborations with artists and architects. At age eighteen, Bokaer was the youngest member to join the Merce Cunningham Dance Company in the company's history, and at age 24, he was engaged as a choreographer to theatre artist Robert Wilson.
Bokaer's 2006 Grants to Artists award supported the production of underscore (2006); Charade (2006), a digitally-animated performance that premiered at Dance Theater Workshop; and Nudedescendance (2006), a digitally-animated solo reimagined for live performance. His subsequent works include REPLICA (2009), Why Patterns (2010), ANCHISES (2010), FILTER (2010), RECESS (2010), On Vanishing (2011), Curtain (2012), Eclipse (2012), The Ulysses Syndrome (2013), Occupant (2013), Other Myths (2014), and Museum Of Nothing (2015).
Bokaer's dances and films have been presented at the Solomon R. Guggenheim Museum, MoMA PS1, New Museum, the Whitney Museum of American Art, The Museum of Arts and Design, MASS MoCA, Asia Society; and internationally at La Triennale di Milano; Le Carré d'Art à Nîmes, France; Institut Valencia d'Art Modern, Spain; Kunsthalle St. Gallen, Switzerland; and Musée d'Art Moderne Grand-Duc Jean, Luxembourg; among others. Bokaer's performances include two seasons at the Jacob's Pillow Dance Festival; Festival d'Avignon, France; Théâtre de la Cité Internationale, Paris; and the Brooklyn Academy of Music Next Wave Festival, for which he was commissioned for the inauguration of the Fisher Theater, with artist Anthony McCall.
Bokaer has collaborated with artists including Daniel Arsham, Ann Carson, Merce Cunningham, Robert Gober, Anthony McCall, Tino Sehgal, and Robert Wilson. He has choreographed many Robert Wilson operas, including Aïda (2003) at Teatro dell'Opera di Roma, KOOL (2006) at Japan/USA Guggenheim Works & Process, Fronteras (2009) at IVAM Valenica, and Faust (2015), presented at the Polish National Opera.
Since his 2006 FCA grant, Bokaer has received an Inaugural Gallery Installation Fellowship from Dance Theater Workshop (2007), two New York Dance and Performance "Bessie" Awards (2007, 2008), an Alumni Achievement Award from North Carolina School of the Arts (2009), a Rockefeller New York City Cultural Innovation Award (2009-2010), the Prix Nouveau Talent Chorégraphie from the SACD Paris (2011), the Jerome Robbins Fellowship in Choreography from the Bogliasco Foundation (2011), and National Endowment for the Arts grants (2011, 2012, 2013, 2014). In 2013, Bokaer received a grant from the Doris Duke Charitable Foundation for the development of his third mobile application, in partnership with Georgia Tech. He also received a John Simon Guggenheim Memorial Foundation Fellowship in 2015.
Bokaer trained in dance at Cornell University and graduated from North Carolina School of the Arts as a North Carolina Academic Scholar in 2000. In 2007, he completed a dual concentration in Visual and Media Arts at The New School. He completed further studies at Parsons School of Design. In 2008, Bokaer became the first dance artist to be appointed a Young Leader of the French American Foundation, in acknowledgment of his efforts to develop Chez Bushwick and Center for Performance Research, two independent arts centers that nurture young artists in New York City and internationally.