Makini (jumatatu m. poe)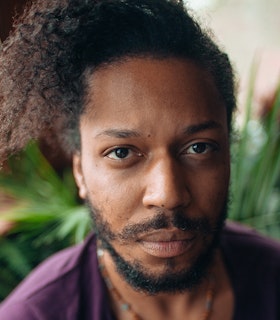 My initial thinking of how I might utilize the $40,000 award from FCA was to contribute to a down payment on collective property that would function as a permanent base for me to live, to work, and to house the life and work of other queer Black and Indigenous artists. That buying project was postponed in the wake of COVID-19 related unknowns… The money is currently in a savings account as I still plan forward collectively around the idea for a live-work space that has been brewing for some years now.
- Makini (jumatatu m. poe), January 24, 2021
Artist Statement
i am learning to speak better portuguese, and remembering that words are deceptively indiscrete and imperfect. remembering that, even when speaking the same language, we all have our own languages. i love to get right up on people in my work… look right at you, be close enough for you to smell me, test the silent contracts we are each assuming are in place and see how much we will allow ourselves to know one another in a moment of performance. i'll wonder, just hard enough, what your body feels as you see me emphasize the s-curve of my lower back, or heave my chest up-and-down in time with the heavy presses of my feet into the ground. i will keep in mind, in body, that tightrope between "exploring" and "invading," and try to keep a balance, even as i resist the implicit notions of ownership of space that are hiding in the syllables of tres∙pass∙ing…… i may have to just stop everything for a moment and sit down next to you and be quiet. and listen to that together……. or, if we are both feeling it, maybe we'll touch one another. before i levitate. or combust. or evaporate.
- December 2019
Biography
Makini (jumatatu m. poe) is a choreographer and performer. Their work strives to engage and further dialogues with Black queer individuals, creating compelling and challenging performance work that recognizes History as only one option for the contextualization of the present, and imagines options for artists' economic and emotional sustainability.
Makini's early exposure to concert dance was through African dance and capoeira performances on California college campuses where their Pan-Africanist parents studied and worked. They began dance training in college with Umfundalai, Kariamu Welsh's contemporary African dance technique. Makini's work is influenced by various sources, including early informal family dance parties; technical training in contemporary African dance, contemporary dance, and performance; sociological movement research; and anatomy study.
In 2019, Makini received a Foundation for Contemporary Arts Emergency Grant to perform terrestrial during the American Realness festival at the Bronx Academy of Art and Dance. This piece explored an ongoing theme in their work, an examination of humans as earth and Black humans as having a long, continuing terrestrial history that far precedes and will outlive white supremacy's oppressions. Since 2010 they have been co-creating the Let 'im Move You series of performance and visual works around J-Sette performance and culture with Jermone Donte Beacham.
Collaboration is often essential for Makini's work, for which nurturing small communities through equity is a central working ethos. They have previously danced with Marianela Boán, Silvana Cardell, devynn emory, Emmanuelle Hunyh, Tania Isaac, Ligia Lewis, Kun-Yang Lin, C. Kemal Nance, Marissa Perel, Leah Stein, Keith Thompson, Kate Watson-Wallace, Reggie Wilson, Jesse Zaritt, and Kariamu Welsh (as a member of Kariamu & Company: Traditions). As a performer, they have collaborated with Merián Soto.
Makini has received various awards including a Pew Center for Arts & Heritage Fellowship (2012), an Independence Foundation Fellowship (2016), a Sacatar Foundation Brazil, Sacatar Residency Fellowship (2017), and the Queer! Art Prize for Let 'im Move You: This Is a Formation (2019).
Makini holds a B.A. from Swarthmore College and an M.F.A. from Temple University. They were also an Assistant Professor of Dance at Swarthmore College from 2009-2018.