Kenneth Tam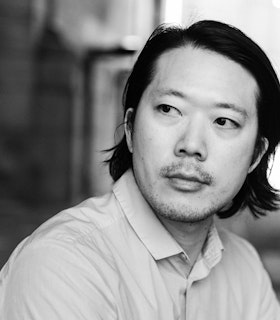 Artist Statement
My current artistic work examines ideas around the performance of masculinity, spaces of male intimacy, and how rituals are used to negotiate identity and belonging. Through video, sculpture, installation, performance, and photography, I'm interested in creating images and experiences that allow the body to be seen as a site for social change. The various rituals and practices that give meaning to our collective social lives form the ground from which many of my projects develop. In past projects I have worked with small groups of non-actor participants to create unscripted situations for the camera. These unrehearsed activities can be absurd yet tender, awkward while entirely sincere, and speak to the kinds of intimacies that can be created when individuals allow themselves to be vulnerable when stepping outside of their day-to-day scripted selves. These performances have the potential to be moving, strange, and beautiful, and open up new worlds so that we may reconsider the ones we currently inhabit.
- December 2022
Biography
Kenneth Tam is an artist who works with video, sculpture, installation, performance, movement, and photography. Taking an interdisciplinary approach, he examines themes such as the performance of masculinity, the transformative potential of ritual, and expressions of intimacy within groups. His work explores how spaces of intimacy can become opportunities for social change. Tam often implicates the male body in his projects, using humor and pathos to reveal the performative and unstable nature of identity, and creating situations that foreground tenderness and vulnerability within unlikely settings. His work is animated by the questions: "How do we perform ourselves?" and "What social forces are at work that give coherence to who we think we are?"
Tam's video installation Silent Spikes premiered at the Queens Museum, Queens, NY (2021), and has also been presented at the Museum of Contemporary Art Tucson, Tucson, AZ (2022); Times Square Arts, New York, NY (2021); Institute of Contemporary Art Los Angeles, Los Angeles, CA, (2021); and Madison Museum of Contemporary Art, Madison, WI (2021). Through the use of tropes associated with the American West, the project explores how sensuousness can reimagine histories of labor and group identity.
Tam's solo exhibitions include Tender is the hand which holds the stone of memory, Ballroom Marfa, Marfa, TX (2022); The Crossing, The Kitchen, New York, NY (2020); Kenneth Tam: Details, Visual Arts Center, The University of Texas at Austin, Austin, TX (2019); and List Projects: Kenneth Tam, MIT List Visual Arts Center, Cambridge, MA (2017), among others.
Tam has participated in group exhibitions at The Shed, New York, NY (2021); SculptureCenter, Long Island City, NY (2019); The Museum of Fine Arts, Houston, Houston, TX (2016), and many others. His work is in the permanent collections of the Hammer Museum, Los Angeles, CA; the Minneapolis Institute of Art, Minneapolis, MN; the Guggenheim Museum, New York, NY; the Dallas Museum of Art, Dallas, TX; and the Los Angeles County Museum of Art, Los Angeles, CA.
Tam is the recipient of Foundation for Contemporary Arts Emergency Grants (2022, 2019, 2016), a New York Foundation for the Arts Fellowship in Interdisciplinary Work (2021), a California Community Foundation Fellowship (2015), and an Art Matters Foundation Award (2013).
Tam is an assistant professor at Rice University and a member of the faculty at the Milton Avery Graduate School of the Arts at Bard College. He has previously taught at Sarah Lawrence College, The New School, Princeton University, and Harvard University. Tam received his B.F.A. from The Cooper Union.