Lois V Vierk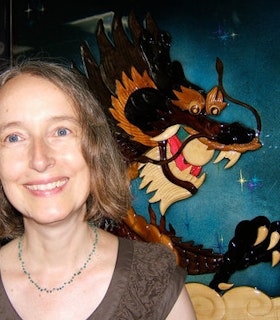 The grant covered many expenses from the five 1994 World Premieres of my works. It also paid me for some of my time so that I was able to devote myself to completing the work I had to do.
- Lois V Vierk, January 15, 1995
Artist Statement
I think of myself as a composer from the generation after the minimalists, both chronologically and artistically. The concentration on sheer sensuous beauty of sound in the "long tone" works of minimalist composers in the 1970s and 1980s, especially the work of Phill Niblock, has always been arresting for me. In my own music this pure sensuous beauty is often a starting point. I work with emotional expressiveness and many kinds of sound relationships to build form and structure.
My works are developmental, often slowly unfolding, sometimes reaching high-energy climaxes. In the 1980s I started developing principles of what I call Exponential Structure, in which elements such as time, harmonic motion, rhythmic and timbral development, sound density, etc. are controlled by mathematical exponential factors. These are not abstract constructs to me, but formal ideas based on the emotional thrust of the sounds and of the piece as a whole.
I'm influenced by a rigorous analytical study of Western music with my teachers Mel Powell, Leonard Stein, and Morton Subotnick, and also by twelve years of study and performance of Gagaku, Japanese court music, with my teachers Sukeyasu Shiba and Suenobu Togi, in Tokyo and Los Angeles.
- 2014
Biography
Lois V Vierk is a composer. She has created work for many types of performing forces, from solo piano­––Yeah Yeah Yeah (1990), and To Stare Astonished at the Sea (1994); to string quartet––River Beneath the River (2000), and Into the Brightening Air (2000); to chamber ensembles––Timberline (1995), and Red Shift (1989) for mixed ensemble; Simoom (1992) for eight cellos­­; Tusk (1981) for eighteen trombones; Go Guitars (1994) for five electric guitars; to orchestra­­––Devil's Punchbowl (1993).
Vierk has spent much of her career in New York City, but has also been active in Europe and Asia. Among the performers and presenters who have commissioned her music are pianists Ursula Oppens, Frederic Rzewski, Claudia Rüegg, Margaret Leng Tan, and Aki Takahashi; accordionist Guy Klucevsek; and the Kronos Quartet, Lincoln Center Festival, Bang on a Can Festival, Ensemble Modern, and Music from Japan. Her music has been performed at Carnegie Hall, Lincoln Center, Glasgow (by the BBC Scottish Symphony Orchestra), Darmstadt, Radio Bremen, the Huddersfield Festival, the Schleswig-Holstein Festival, New Music Edmonton in Canada, the Suntory Festival in Tokyo, and the Adelaide Festival in Australia. Vierk's music has been presented in portrait concerts at German Radio Cologne and in Switzerland. Her work is available on Tzadik Records, XI Records, OODiscs, Sony Classical, and Starkland Records.
Vierk has co-created performances with tap-dance choreographer Anita Feldman. Elise Monte and Karole Armitage have also choreographed original dances to Vierk's music that have been presented in New York City, Chicago and elsewhere. The feature-length film Everywhere At Once (2008) by Holly Fisher and Peter Lindbergh, featuring Vierk's music, premiered at the Tribeca Film Festival and has appeared in festivals in the U.S. and Europe.
Vierk studied composition at California Institute of the Arts and studied Gagaku, a form of Japanese court music, with master teachers in Los Angeles and Tokyo.