Meredith Monk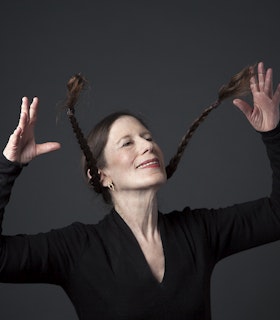 Over the years I have had the joy and privilege of sharing some time with John Cage; of singing some of his music; of cooking some meals together. To be with him, even for a few minutes, was always an inspiration. When he would enter a room, the energy would change—a liveliness and delight would become palpable. His curiosity, immediacy and playfulness were infectious. His life was a reminder to all of us that we can continue growing, changing, being alert to the moment for our entire lives.
- Meredith Monk, December 17, 2020
Artist Statement
I strive to create work that breaks down boundaries between disciplines, an art that in turn becomes a metaphor for opening up thought, perception, and experience. An art that is inclusive, rather than exclusive; that is expansive, human, and multidimensional.
An art that cleanses the senses, that offers insight, feeling and magic. That allows the public to perhaps see familiar things in a new, fresh way–that gives them the possibility of feeling more alive.
An art that seeks to reestablish the unity existing in music, theater, and dance–the wholeness that is found in cultures where performing arts practice is considered a spiritual discipline with healing and transformative power–an antidote in a world with so much distraction and destruction.
An art that reaches toward emotion we have no words for and that we barely remember–an art that affirms the world of feeling in a time and society where feeling and direct experiences are in danger of being eliminated.
Biography
Meredith Monk is a composer, singer, and creator of new opera and music-theater works. Recognized as one of the most unique and influential artists of our time, she is a pioneer in what is now called "extended vocal technique." Her groundbreaking exploration of the voice as an instrument, as an eloquent language in and of itself, expands the boundaries of musical composition, creating landscapes of sound that unearth feelings, energies, and memories for which there are no words. Over the last six decades, Ms. Monk has been hailed as one of National Public Radio's 50 Great Voices and "one of America's coolest composers." Her numerous awards include a MacArthur Fellowship award and an Officer of the Order of Arts and Letters by the Republic of France. She received three of the highest honors bestowed on a living artist in the United States: induction into the American Academy of Arts and Letters (2019), the 2017 Dorothy and Lillian Gish Prize, and a 2015 National Medal of Arts from President Barack Obama.
In 1965, Monk began her innovative exploration of the voice as a multifaceted instrument, composing solo pieces for unaccompanied voice and for voice and keyboard. In 1978, she formed Meredith Monk & Vocal Ensemble to further expand her musical textures and forms. The majority of her work can be heard on the ECM label, including the Grammy-nominated impermanence and highly regarded recent release, On Behalf of Nature. Her music has also been featured in films by Terrence Malick, Jean-Luc Godard, David Byrne, and the Coen Brothers. Since the early 2000s, Monk has been creating vital new repertoire for orchestra, chamber ensembles, and solo instruments, with recent commissions from the San Francisco Symphony and Carnegie Hall, where she held the 2014-15 Richard and Barbara Debs Composer's Chair in conjunction with her 50th season of creating and performing.
Monk is a pioneer of site-specific work. With Juice, in 1969, she was the first artist to create a work for the Guggenheim rotunda. A new production of Monk's opera ATLAS: an opera in three parts (1991), directed by Yuval Sharon, was presented by the Los Angeles Philharmonic in June 2019. Monk's newest music-theater piece, Cellular Songs, premiered in March 2018 at the Brooklyn Academy of Music Harvey Theater to sold-out audiences.
Monk received her B.A. from Sarah Lawrence College. She served as the Spring 2020 Fromm Foundation Visiting Lecturer on Music at Harvard University.
Monk received four early FCA grants, including in 1969 for the aforementioned Juice, at the Solomon R. Guggenheim Museum. In 1983 she was awarded an additional FCA grant, and in 1990 received support for the film Book of Days. In 1991, FCA supported the previously mentioned Atlas: an opera in three parts at the Brooklyn Academy of Music. ​Monk's 2020 John Cage Award supported the development of Anthem (2020), Duet Behavior 2020 (2020), ROTATION (2021), and Indra's Net (2021).