Yuval Sharon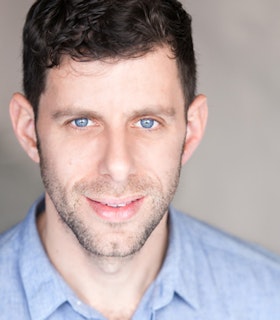 The FCA [grant] became a kind of constant 'emergency fund' for all the projects that happened this year. Having this contingency to fall back on when I needed it allowed me to focus first and foremost on the creative development of these works. It also took pressure off The Industry, as I could supplement the work being produced by my company without needing to do additional fundraising. It was a source of security that came to the rescue time and time again throughout the year, and I have no doubt it contributed to the success of each of these endeavors.
- Yuval Sharon, January 18, 2018
Artist Statement
I view opera as an audacious and contemporary genre: as the first interdisciplinary art form, opera is an ideal platform for 21st-century exploration. My work is fueled by this belief and characterized by instability and the pleasure in complexity at the heart of opera.
Instability is fundamental to an opera's construction, with its three levels of potential meaning—via music, text, and visual realization—vying for dominance. The audacious collaboration of disparate artists—composer, a poet, designers, choreographer, singing artists—gave opera an air of the unprecedented and undefinable in 16th-century Italy, and even today, it demands a unique methodology beyond the ordinary for all the artists involved.
Opera offers a complex way of seeing and hearing that I consider refreshing. Unusual ways of listening and viewing challenge us—but that challenge is a pleasure, because that complexity has the potential to expand our senses and transform our assumed view of the world.
Opera has historically been accused of cultivating a "passive" audience. I see this as a critical fault of operatic production but not the genre itself. Attempting to sidestep the too-simple dichotomy of passive/active spectatorship, I want my work to cultivate an audience's curiosity through productions that heighten a work's instability and complexity, and by employing surprise to constantly eschew expectation.
- December 2016
Biography
Yuval Sharon is a director and producer creating unconventional work that seeks to expand the operatic form. His productions allow opera to escape the traditional sphere of the theater, inviting his audiences to engage directly with the works by taking to the streets and public spaces.
Sharon is founder and Artistic Director of The Industry in Los Angeles, and has directed and produced the company's acclaimed world premieres of Crescent City (2012), the story of a mythical town loosely based on New Orleans; Invisible Cities (2013), an opera performed in Union Station; and Hopscotch (2015), a musical journey where audience members take car rides across the city with the performers. He also devised and directed the company's two performance installations, In C (2014) at the Hammer Museum, and Nimbus (2016) at Walt Disney Concert Hall. During Sharon's grant year, The Industry produced a number of performances including War of the Worlds, a new piece written by Sharon and Annie Gosfield that took place simultaneously at Walt Disney Concert Hall and on the streets of Los Angeles.
Sharon directed John Cage's  Song Books at the San Francisco Symphony and at Carnegie Hall (2012) with Joan La Barbara, Meredith Monk, and Jessye Norman, and produced Peter Eötvös's Three Sisters at the Wiener Staatsoper (2016).
Sharon is the recipient of a Götz Friedrich Prize for his production of John Adams's Doctor Atomic (2014), and was awarded a three-year residency at the Los Angeles Philharmonic (2016-19). He serves on the board of Opera America, the Artist Council for the Hammer Museum, and as a Fellow for the Los Angeles Institute for Humanities.