Milka Djordjevich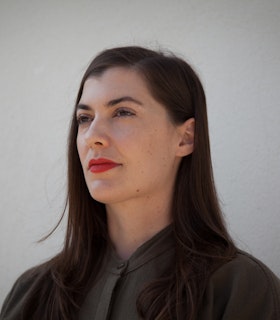 What a wild year. This year the plan was to premiere my newest evening length work CORPS in fall 2020, but with the onset of the pandemic the development process stalled. I originally allocated the FCA funds towards project expenses, so with the onset of the pandemic these funds have been sitting in my account waiting to be used when we start up rehearsals again, hopefully in summer 2021.
- Milka Djordjevich, December 21, 2020
Artist Statement
I create choreography that operates inside and outside dance traditions in order to blur the distinction between 'dance' and 'non-dance.' In particular, I am interested in subverting Western dance's history, tradition, codification, and embedded patriarchy, without creating transgressions. Additionally, my recent works explore the perception of the female dancing body in the so-called neutral spaces of the theaters, galleries, museums, and public contexts. I participate in a long and layered process of inquiry, which continually questions the mode of production from which I work in order to examine how it is embedded in a cultural hierarchy.
My process involves developing singular movement languages—in collaboration with my dancers—offering actions, which blur the distinction between dance, behavior, and spectacle. My choreography composites and layers existing, outmoded, and invented dance styles, creating a dance as an act of consumption as well as a mode of production. I use formal restraint in order to give space for performative abandon, by creating choreographic rules and systems which push up against various performative thresholds. Can the embodiment and idolization of virtuosity be pushed so far that it is transformative? I am interested in illuminating deep human expression through highly formalistic and at times abstract choreography, challenging the notion that form and abstraction is devoid of feeling. The dancers's effort in performing multiple contradicting tasks will give way to new terrain.
- December 2019
Biography
Milka Djordjevich is a choreographer, performer, and teacher. Her work draws from a variety of compositional strategies to question preconceived notions of dance, examining the moving female body in so-called "neutral" public spaces of theaters, galleries, and museums.
Djordjevich's works include ANTHEM (2017), a quartet questioning contemporary dance's predisposition towards neutrality, authenticity, and the de-sexualization of the female body by embracing theatricality, virtuosity, and sass. ANTHEM was commissioned by Los Angeles Performance Practice and The Chocolate Factory Theater. In 2013, Djordjevich created and performed Kinetic Makeover, a solo piece that confers power and autonomy on one body, which premiered at The Chocolate Factory Theater and toured nationally and internationally.
Her long-standing collaborations with composer Chris Peck challenge conventional partnerships between choreographers and composers, rediscovering music as a practice of the body and dance as a mode of listening. Their work MASS (2015), which premiered at The Kitchen, was supported by a Foundation for Contemporary Arts Emergency Grant for its presentation at Show Box LA/Bootleg Theater. MASS aims to unveil the materiality of the moving and sonic female body, unraveling its inherent choreographed codes.
Djordjevich's works have been presented at the American Realness festival; LA Dance Platform; The Philadelphia Thing; Portland Institute of Contemporary Art's Time-Based Art Festival; and Santa Ana Sites.
As a performer, Djordjevich has worked with Sasa Asentic, Alison D'Amato, Sam Kim, Heather Kravas, Laurel Jenkins, Jennifer Monson, Ana Vujanovic, and Elizabeth Ward, among others. She has served as co-editor for Movement Research's Critical Correspondence and initiated the Monday Class series at Pieter in Los Angeles.
Djordjevich was a Princeton University Hodder Fellow (2017-2018), a danceWEB Europe Scholar (2008/2010), and a Movement Research Artist-in-Residence (2006-2007). She has also held residencies at Maggie Allesee National Center for Choreography; PACT Zollverien and Fabrik Potsdam; University of California, Los Angeles Hothouse; and Workspace Brussels. She has taught at the American Musical and Dramatic Academy (AMDA), Pomona College, and University of California at Irvine and Riverside.
Djordjevich received a B.A. from the University of California, Los Angeles and an M.F.A. from Sarah Lawrence College. In 2016, she established STANA, an organization cultivating local, national and international dance connections.