Nate Wooley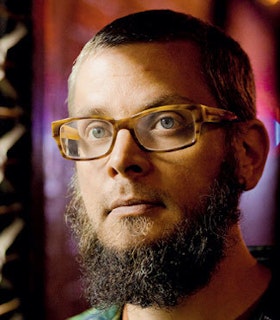 I decided... that I would invest in the creation of long-term musical projects that would push me physically and conceptually as well as confront the public's view of my work as being jazz-based. It was the time to do this anyway, and the support given by the FCA allowed me to move forward without hesitation... it gives me a great amount of satisfaction to know that, for the next five years, I can make every artistic statement I would like without the fear of economic disaster.
- Nate Wooley, December 13, 2016
Artist Statement
The base sound image of an instrument is often that of the human voice. My primary artistic concern has long been denuding the trumpet of the tradition and romanticism of that idea. While maintaining that basic auditory vocal concept, much of the improvisatory and compositional language I've been working to develop integrates the benign, banal, ugly, and raw elements of speech and non-musical vocal sound into the way I present my music. I am attempting to present my best approximation of something universally human and realistic, using extreme extended techniques and amplification to create my version of song, cries, sniffles, clicks, swallows, and low tuneless hums.
This work represents, to me, a furtherance of the American jazz tradition. Alongside my concern for changing my sound concept of the trumpet, my improvisation and composition aims to pay homage to that tradition in reference to its maverick spirit, by subverting and twisting ideas that I, and others, hold sacred in the attempt to find something new within the form; pushing concepts to the point at which they no longer are aesthetic to me and then pulling back to just within those limits.
- December 2015
Biography
After an early education playing in big bands with his father, Nate Wooley moved to New York in 2001, where he quickly became a part of the downtown free jazz, experimental, rock, and noise scenes. Since then he has performed regularly with such iconic figures as Anthony Braxton, John Zorn, Evan Parker, Ken Vandermark, and Eliane Radigue. As a solo trumpet player, Wooley combines extended technique, noise and drone aesthetics, amplification and feedback, and vocalization.
Wooley's 2016 Grants to Artists award supported the recording and production of [Syllables] (Pleasure Of The Text Records, 2017), a solo work consisting of four CDs, a book of essays, and a book of scores that raises questions about the necessity of success and failure in instrumental technique. With his award Wooley also commissioned composer Christian Wolff's first piece for solo trumpet, For Trumpet Player (2017). Wooley's Seven Storey Mountain series includes Seven Storey Mountain (Important Records, 2007), Seven Storey Mountain II (Important Records, 2009), and Seven Storey Mountain III and IV (Pleasure of the Text Records, 2013), all of which premiered at ISSUE Project Room, Brooklyn; and Seven Storey Mountain V (Pleasure of the Text Records, 2015) which premiered at Tectonics Festival New York, Abrons Arts Center, New York. Wooley's other recorded works include The Almond (Pogus Productions, 2012); Psalms From Hell, which premiered at Jazztopad Festival, Narodowe Forum Muzyki, Wrocław, Poland (2014); and I Am Their Wake, which premiered at Dampfzentrale, Bern, Switzerland (2015).
In 2011, Wooley was an Artist-in-Residence at ISSUE Project Room and Café Oto, and received a Recording Program Grant from the The Aaron Copland Fund for Music. In 2013 Wooley was selected to participate in the in-gallery music series Sound Horizon at the Walker Art Center in Minneapolis. He has also been a featured artist at MoMA PS1 and the Solomon R. Guggenheim Museum.
Wooley earned a B.M. and an M.M. in trumpet performance from the University of Oregon in 1997 and the Lamont School of Music at the University of Denver in 1999. Nate is also the curator of the online research tool, the Database of Recorded American Music and the editor of Sound American (soundamerican.org), a quarterly online journal attempting to obliterate the perceived elitism of contemporary and experimental music.