Nathaniel Dorsky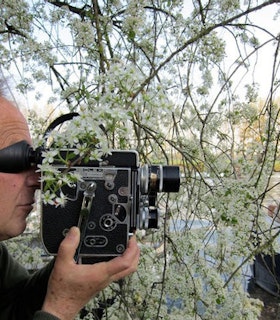 I was able to use my grant from your Foundation to complete the editing stage of [Song and Solitude] and make prints of a very high quality. This funding has been extraordinarily helpful in this process, in fact without it I could not have finished this... It has gotten the most excellent reviews... It has been called 'my best' and also 'the best film at the Toronto Film Festival.'
- Nathaniel Dorsky, January 2007
Artist Statement
In film, there are two ways of including human beings. One is depicting human beings. Another is to create a film form which, in itself, has all the qualities of being human: tenderness, observation, fear, relaxation, the sense of stepping into the world and pulling back, expansion, contraction, changing, softening, tenderness of heart. The first is a form of theater and the latter is a form of poetry.
- December 2005
Biography
Nathaniel Dorsky is an experimental filmmaker and film editor who has been making work since 1963. He uses 16mm film exclusively and he shot in Kodachrome until its discontinuation. His works are subtle, detailed montages of everyday images that eschew narrative for contemplation. All his films are screened in silence.
Dorsky's films created prior to his 2006 Grants to Artists award include Ingreen (1964), A Fall Trip Home (1964), Summerwind (1965), Triste (1974-96), Alaya (1976-87), Pneuma (1977-83), Hours for Jerome (1980-82), Variations (1992-98), Arbor Vitae (1999-2000), The Visitation (2002), and Threnody (2004). Dorsky's 2006 FCA grant supported the completion of his film Song and Solitude (2005-06). Subsequent to his 2006 Grants to Artists award, Dorsky released Winter (2007), Sarabande (2008), Compline (2009), Pastourelle (2010), The Return (2011), and August and After (2012).
Dorsky has presented films at Tate Modern, Louvre Museum, the Whitney Biennial, Walter Reade Theater at Lincoln Center, REDCAT, Yale University, Harvard Film Archive, Princeton University, Prague Film Archive, Vienna Film Museum, Pacific Film Archive, Filmoteca Española in Madrid, and Hammer Museum at the University of California, Los Angeles. He frequently exhibits new work at the New York Film Festival's Views from the Avant-Garde and the Wavelengths Program of the Toronto International Film Festival. Dorsky's work is now in the permanent collections of the Museum of Modern Art, Pacific Film Archive, Image Forum in Tokyo, Centre Pompidou, and Archives du film expérimental d'Avignon, as well as in many universities. He is the author of Devotional Cinema (2003), in which he explains his theories on avant-garde film.
After receiving his 2006 FCA grant, the International Film Festival Rotterdam honored Dorsky in 2011 with a retrospective and granted him the Tiger Award for Pastourelle (2010). Prior to his 2006 Grants to Artists award, Dorsky received a John Simon Guggenheim Memorial Foundation Fellowship (1998) and grants from the California Arts Council (1997), the National Endowment for the Arts (1988, 2002, 2005), the LEF Foundation (2001), and the Rockefeller Foundation (2003).
Dorsky attended Antioch College and New York University. In 2008, he was a visiting professor at Princeton University.