Niall Jones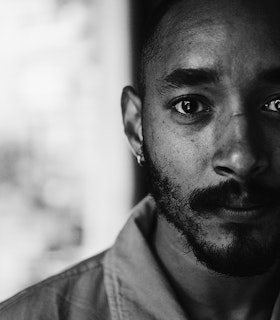 What is most immense and not so easy to describe, something of a mixture of delight and awe, is not just receiving the award, but imagining a room of artists and curators and administrators and peers, some of which I imagine to be friends and accomplices in this life, sitting together to discuss the work I've done and saying that the work and all its possible futures matter. An encouragement to go beyond the beyond, further and deeper, wildly.
- Niall Jones, January 8, 2022
Artist Statement
Noise engulfs the insides. The walls throb with the pressures of an immodest sound system. The messy, contingent conditions where darkness and dispersion (or excess?) conspire. A few are dancing. Bodies, suspended in motion, fall in and out. The room begins to watch itself. Waiting. An exceptional gesture of shattering and being shattered. An oscillation between nice & easy — nice & rough. The tendency is to slip between. I played trombone in middle and high school. It was in the tangled pedagogies of being together, in brass, that I learned that playing was practicing how to anticipate the discrepancies between others, between desires, between dis/appearances.
- December 2020
Biography
Niall Jones constructs, inhabits, and explores the theater as a mode and location of instabilities. Working through an ongoing fascination with labor, temporality, and fantasy, Jones creates immersive, liminal densities—traces and thresholds—that enact practices of incompleteness and refusal. His work Fantasies in Low Fade (2019) existed someplace in between performance and installation, stretching across the multilevel architectures of The Chocolate Factory Theater in Long Island City, NY. Oscillating wildly in the dark, the project obsessed over the fragility of matter, fugitive presences, and collective intimacies.
Other works by Jones include: a n u n r e a l at University of the Arts School of Dance, Philadelphia, PA (2020); Sis Minor: The Preliminary Studies at Hebbel am Ufer, Berlin, Germany (2018); Sis Minor, in Fall, at Abrons Arts Center, New York, NY (2018); Splendor #3 at Gibney, New York, NY (2017); Splendor as part of the Dance and Process Residency at The Kitchen, New York, NY (2016); Reunion and Excess Features at Roulette, Brooklyn, NY (2015); and a pleasure, 2014 edition, as part of the New York Live Arts Fresh Tracks Residency (2015). Jones was a Studio Series Artist-in-Residence at Dance Theater Workshop (2010-11) and received a New York Dance and Performance "Bessie" Nomination for Outstanding Emerging Choreographer for Splendor #3 (2017).
He has performed in works by Maria Hassabi, Ishmael Houston-Jones, Jennifer Monson, Cynthia Oliver, Tere O'Connor, Jen Rosenblit/Simone Aughterlony, David Gordon, Emily Wexler, Walter Dundervill, Regina Rocke, Anne Imhof, Yve Laris Cohen, and Ryan McNamara.
Jones received a B.F.A. from Virginia Commonwealth University and an M.F.A. from the University of Illinois at Urbana-Champaign. He teaches at the University of the Arts School of Dance in Philadelphia, where he is also Producer and Co-Curator of The School for Temporary Liveness (Vol. 1 & 2).