Pam Tanowitz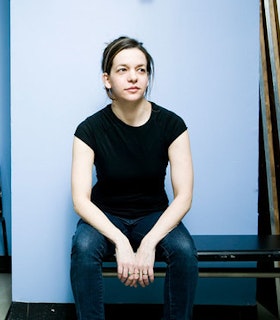 When I got the news that I received this honor I was shaking, I was shocked. This incredibly special grant was the first grant I received in the seventeen years that I have been making dances in New York City. Being a recipient of the prestigious Grants to Artist award… marked a huge step in my career in terms of notoriety and visibility… In addition, I was able to actually pay myself a salary for making dances for the first time. Basically this grant saved my ass.
- Pam Tanowitz, January 2011
Artist Statement
My dances are deeply personal explorations on movement, grounded in tradition, that comment on history—revering and revising its legacy. I play with classical vocabulary, not as parody, but out of respect for the dances from which I have learned so much. I take ballet steps and alter them into modern forms—traditional movement is twisted and thrown off-center, challenging the expectations of the viewer. I want the audience to observe the seams of my work, momentarily taking the "magic" out of theater and revealing the mechanical gears of performance. This is done without sacrificing elegance and is an attempt to reveal the fragility behind our basic human need to strive for purity.
Narrative is inescapable. No dance is a pure abstraction. We unconsciously assign motivation to the movers on a stage. In my work, I want to poke through that seemingly pleasurable surface by placing fluidity and mechanics in opposition.
I view my work as a progression of pieces, in which one dance poses a question that is answered in the next. Form versus content, nihilism versus history, story versus abstraction are given equal play, yet I also treasure the visceral experience of full-bodied, technical dancing. It's a fine line, but in showing the dance I want to show how the dance is made.
- December 2009
Biography
Choreographer Pam Tanowitz has been making dances since 1992. Her work often draws on eccentric and awkward movements to which she lends a formal beauty by bringing classical ballet into a postmodern context. In 2000 Tanowitz founded Pam Tanowitz Dance, and has received commissions and residencies from The Joyce Theater, New York Live Arts, The Kitchen, Danspace Project, The Guggenheim Museum's Works & Process program, and Baryshnikov Arts Center. The company has performed at The Lincoln Center Out of Doors Festival and the Chicago Dancing Festival. She has set work on dancers at The Juilliard School, New York Theater Ballet, and Saint Louis Ballet.
With the support of her 2010 Grants to Artists award, Tanowitz had a return engagement of her work Be in the Gray With Me at Dance Theater Workshop (2010) and she premiered The Wanderer Fantasy (2010) at Danspace Project. Tanowitz's subsequent works include Spectators (2013) and Passagen (2014). In 2015, Tanowitz premiered Broken Story (wherein there is no ecstasy), a collaboration with David Lang that was commissioned by Works & Process at the Guggenheim.
Following her FCA support, Tanowitz received a John Simon Guggenheim Memorial Foundation Fellowship (2011), a Hodder Fellowship from Princeton University (2013-2014), and a Doris Duke Artist Award (2020). Prior to her 2010 Grants to Artists, Tanowitz received two grants from the Harkness Foundation for Dance (2004, 2005), a New York Dance and Performance "Bessie" Award (2009), and a Dance Force Grant (2009).
Tanowitz received a B.F.A. in Dance from the Ohio State University in 1991 and an M.F.A. in Dance from Sarah Lawrence College in 1998, where she was mentored by former Merce Cunningham principal dancer Viola Farber-Slayton.