Pamela Z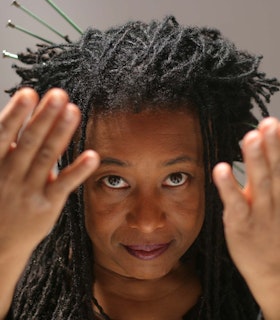 Artist Statement
My work is about layers. Since the early 1980s, I have used digital delay and sampling technology to create layered sound and performance works. I like making work that explores broad, open-ended concepts like memory, language, numbers, or time.
I'm drawn to the musicality of the human speaking voice and attracted to the dynamic that arises from simultaneously receiving it as abstract sound and the literal meaning that it holds. Speech sound is full of pitches and cadences that I routinely harvest for use as melodic and rhythmic figures of musical composition. I also love finding musicality in found sounds, and have long enjoyed using concrete samples as components in my live and recorded works.
I'm best known for works composed for my own solo voice and live electronics, which I often manipulate using wireless, gesture-controlled instruments. But, over time, my work has expanded to encompass many more facets, including chamber music compositions, fixed media "tape" works, and sound and video installations. Although my work has begun to include visual art, sound is generally still at its core. And the human voice and speech remain key.  
- December 2021
Biography
Pamela Z is a composer, performer, and media artist working with voice, live electronic processing, sampled sound, and video. In addition to her solo performances, she has a growing body of works for chamber ensembles as well as installation works using multi-channel sound and video.
A pioneer of live digital looping techniques, Z processes her voice in real time to create dense, complex sonic layers. Her solo works combine experimental extended vocal techniques, operatic bel canto, found objects, text, and sampled concrète sounds. She uses MAX MSP, Isadora, and custom MIDI controllers to manipulate sound and image with physical gestures. In works such as Quatre Couches (2015), she integrates digital and embodied techniques to create and transform multiple interlocking layers of her live-sampled voice.
Beyond her own interdisciplinary practice, Z has collaborated with a wide range of artists including Joan La Barbara, Joan Jeanrenaud, Brenda Way (ODC Dance), and Miya Masaoka, among others.
Z has toured extensively throughout the United States, Europe, and Japan. She has performed at The Kitchen, New York, NY (2019, 2010, 2004); Walt Disney Concert Hall, Los Angeles, CA (2022, 2019, 2017); the 50th Venice Biennale, Venice, Italy (2003); Bang on a Can Festival at Lincoln Center, New York NY (1999, 1996); and Tanztheater Wuppertal Pina Bausch, Wuppertal, Germany (1998).
She has shown work in exhibitions at the Whitney Museum of American Art, New York, NY (2001, 2000); The Frances Young Tang Teaching Museum and Art Gallery, Saratoga Springs, NY (2005); and the Dakar Biennale, Dakar, Senegal (2004).
Z is the recipient of many honors and awards, including the American Academy of Arts and Letters, Walter Hinrichsen Award in Music (2020); the United States Artists Mellon Fellowship (2020); the American Academy in Rome, Frederic A. Juilliard/Walter Damrosch Rome Prize (2019-2020); and the John Simon Guggenheim Memorial Foundation, Guggenheim Fellowship in Music Composition (2004).
She holds a B.M. from the University of Colorado, Boulder.