Joan La Barbara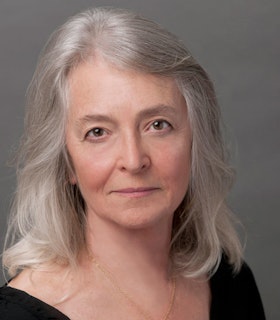 Your gift of the Foundation's 2016 John Cage Award launched a remarkable year of celebration for the work to which I have devoted over four decades of my life. It was especially meaningful to receive the award named for the composer whom I consider my mentor, as well as my friend and colleague, and whose work greatly influenced my own.
- Joan La Barbara, December 21, 2016
Artist Statement
My work is about discovery, immersing audiences within the sonic space, and about creating situations that cause us to reconsider attitudes about how we view the world, what is performance and what is music. Influenced by other disciplines, arts and media, I create "sound paintings", "soundances", conceptual pieces and musical works in theatrical environments. For over four decades I have explored the nearly limitless vocal instrument alone, with other instruments, in complex textures, and with electronic extensions. Many of my works include what I call "sonic atmospheres", soundscapes created from multiple layers of voices, instruments and natural sounds forming a shifting aural landscape over which live material is performed. As I "see" sound in shapes, many of my scores include graphics to indicate energy flow and musical trajectory.
My working process includes generating a list of words and phrases in freeform stream-of-consciousness with no filtering or censoring, on an idea, concept or theme I have chosen. When no more words come, I go back and read what I've written, gleaning the musical material implied or suggested and begin sketching out sonic shapes or specific melodies, chords, tonalities. Later I work on structure and form, how the piece unfolds over time, and the density of acoustical properties.
Often I record material and, using computer-based digital editing systems, fragment and layer modular elements sometimes in unpredictable ways to create mosaics of sound. (John Cage's love of "simultaneities", superimposing material to reveal what might happen, is an enduring influence and inspiration, especially if I feel I've hit an impasse.) Frequently, these mosaics form the foundation of my "sonic atmospheres", or I translate them into formal notation for instrumental ensembles.
In recent works, I have positioned musicians around the audience to place the audience in the center of the orchestral sound ("in solitude this fear is lived …"); allowed an audience to wander through many rooms of a music school, hearing and experiencing "Journeys and Observable Events" from a variety of visual and aural vantage points; and rented a pop-up store for a 4-hour 'discoverable' event ("Storefront Diva") involving pianist with set, costumes, and video in a theatrical situation, all inspired by the dreams and sculptures of Joseph Cornell.
My fascination with conceptual art has led me to explore psychological states and how we react to sensory stimuli consciously and instinctively, discovering new sounds or new relationships between art forms and performance. One of my mentors, Morton Feldman, said that music was most perfect in the mind. The idea of sounds within the mind has led me to examine journals of other artists, seeking clues to artistic vision and elusive truths. What I have gleaned from these writings will inform the opera I intend to create in the coming years.
As I think of my life as an experiment, I shall continue to explore new situations and hopefully be surprised and delighted by unpredictable results.
- December 2015
Biography
Joan La Barbara is a composer, performer, sound artist, and actor known for her unique vocabulary of experimental and "extended" vocal techniques. She explores the human voice as a multi-faceted instrument, going far beyond its traditional boundaries. La Barbara creates works for voices, instruments, and interactive technology. She developed experimental and extended vocal techniques, including multiphonics—the simultaneous sounding of two or more pitches—circular singing, ululation, and glottal clicks.
La Barbara has performed the premiers of several works in the contemporary American music canon, including those by Robert Ashley, Philip Glass, Morton Feldman, and Steve Reich, and has worked with Merce Cunningham. La Barbara premiered John Cage's work, and performed with him on numerous occasions. From 2002-2004 she directed "When Morty Met John: John Cage, Morton Feldman, and New York in the 1950s" festival, which celebrated the music of these composers and the New York School, at Carnegie Hall.
Among La Barbara's notable albums are Voice is the Original Instrument (1976), Joan La Barbara Singing Through: Vocal Compositions by John Cage (1990), and Joan La Barbara/Sound Paintings (1991). She was featured as a performer on the album Three Voices for Joan La Barbara by Morton Feldman (1989). 73 Poems (1993), her collaboration with poet Kenneth Goldsmith, was included in The American Century Part II: Soundworks at the Whitney Museum of American Art, New York. Her recording ShamanSong (1998) includes her composition ROTHKO, a "sound painting" inspired by the Rothko Chapel. For in solitude this fear is lived (2011), La Barbara seated the American Composers Orchestra around and among the audience in Carnegie Hall's Zankel auditorium, building her "sonic painting" inspired by Agnes Martin's minimalist drawings while exploring ways of immersing the audience in her music.
The Immersive Early Works of Joan La Barbara is a DVD and CD collection of restored surround-sound recordings from 1976-1981 that will be released on Mode Records. These multi-channel works were originally performed with multiple speakers in unusual arrangements. The project is in development with funding from New Music USA and the Aaron Copland Fund. La Barbara is composing a new opera inspired by Virginia Woolf and Joseph Cornell that explores the artistic process, interior dialogue, and sounds within the mind. La Barbara's voice-with-electronics "Signing Alphabet" score for "Children's Television Workshop/Sesame Street" has broadcast worldwide since its creation in 1977. Her film credits include Matthew Barney's and Jonathan Bepler's River of Fundament (2014) and Aleksandar Kostic's Parallel Dreams (2015).
La Barbara has had significant performances and premieres at The Albert Hall, Festival d'Automne à Paris, Brisbane Biennial, Carnegie Hall, Royal Opera House, Teatro Colòn, Warsaw Autumn, MaerzMusik in Berlin, and Lincoln Center, among others. She has recorded for A&M Horizon, Centaur, Deutsche Grammophon, Elektra-Nonesuch, Lovely Music, Mode, Music & Arts, MusicMasters, Musical Heritage, New World Records, Newport Classic, New World, Sony, Virgin, Voyager, and Wergo. Her works have been choreographed by John Alleyne for Ballet British Columbia, Nai-Ni Chen, Jane Comfort, Martha Curtis, Catherine Kerr, Martha Scott, and she performed her music with Merce Cunningham for a 1976 "Events" evening. La Barbara's seminal work, Circular Song (1975-76) was included in the exhibition "This is a Voice" at the Wellcome Collection, London, United Kingdom (2016).
La Barbara was a DAAD Berlin Composer-in-Residence (1979) and has received awards including an International Society for Contemporary Music International Jury Award (1977), Meet The Composer (1990, 1994, 2008), FCA Emergency Grants (1994, 1999, 2010), Aaron Copland Fund recording grants (1998, 2013), a John Simon Guggenheim Memorial Foundation Fellowship in Music Composition (2004), a New York State Council on the Arts Music Composition award (2007-2008), an American Music Center Letter of Distinction (2008), a Demetrio Stratos International Award for musical experimentation (2011), a Civitella Ranieri Fellowship (2013), New Music USA Project Grants (2013, 2014), and seven National Endowment for the Arts fellowships (Music Composition, Opera/Musical Theater, Inter-Arts, Recording (two), Solo Recitalist, and Visual Arts).
La Barbara earned a B.S. from New York University in 1970. She is on the Music Composition Faculty of New York University Steinhardt and Mannes College of Music at The New School. La Barbara is co-founder of performing composers collective Ne(x)tworks.