Paul Chan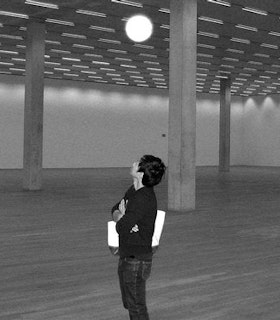 ...the grant helped me maintain my studio, which is home to all of my work and time spent thinking about work. This place, like no other, affords me both time and solitude. I'm grateful for the grant allowing me this kind of luxury. It is in fact a luxury, but one I am willing to give up almost anything for.
- Paul Chan, March 21, 2007
Artist Statement
My work reminds me of what Karl Kraus wrote:
In the realm of poverty of imagination where people die of spiritual famine without feeling spiritual hunger, where pens are dipped in blood and swords in ink, that which is not thought must be done, but that which is only thought is unutterable. Expect no words of my own from me. Nor would I be able to say anything new, for in the room in which one writes there is such noise, and at this time one should not determine whether it comes from animals, from children, or merely from mortars. He who encourages deeds with words desecrates words and deeds and is doubly despicable.
- December 2005
Biography
Paul Chan is a multidisciplinary artist whose practice involves sculpture, writing, animated video, light projection, and community-based performance.
In 2002, Chan was a part of Voices in the Wilderness, an American aid group that broke U.S. sanctions and federal law by working in Baghdad before the U.S. invasion and occupation. In 2004, he garnered police attention for The People's Guide to the Republican National Convention, a free map distributed throughout New York to help protesters to get in or out of the way of the Republican National Convention. Prior to his 2006 Grants to Artists award, Chan's work had been the subject of solo exhibitions and screenings at venues including The Museum of Modern Art Film at the Gramercy Theater, Blanton Museum of Art in Austin, Institute of Contemporary Art/Boston, and Hammer Museum at University of California, Los Angeles.
With funds from his 2006 FCA grant, Chan launched a new version of his website, nationalphilistine.com, which became badlandsunlimited.com. In 2010, Chan founded Badlands Unlimited, a press devoted to publishing artists writings and writings about art in paper and digital forms. In 2007, Chan collaborated with the Classical Theatre of Harlem and Creative Time to produce a site-specific outdoor presentation of Samuel Beckett's play Waiting for Godot in New Orleans. In 2014, Chan presented a survey exhibition entitled Selected Works that was mounted by Schaulager in Basel, Switzerland.
Since receiving his 2006 Grants to Artists award, solo exhibitions of Chan's work have been held at the New Museum, Carpenter Center for the Visual Arts, Serpentine Gallery in London, and Stedelijk Museum in Amsterdam. Chan's essays and interviews have appeared in Artforum, Frieze, Flash Art, October, Tate Etc., Parkett, Texte Zur Kunst, BOMB Magazine, and other magazines and journals. His work has also been featured in exhibitions internationally, including the Whitney Biennial (2006); 10th International Istanbul Biennial (2007); Yokohama Triennial (2008), Japan; 16th Biennale of Sydney (2008); Making Worlds, 53rd Venice Biennale (2009); The Quick and the Dead (2009), Walker Art Center; Haunted (2010) and Found in Translation (2011), Solomon R. Guggenheim Museum; dOCUMENTA (13), Kassel; Seeing Is Believing (2011), KW Institute for Contemporary Art, Berlin; and I Am Still Alive: Politics and Everyday Life in Contemporary Drawing (2011), The Museum of Modern Art.
Subsequent to his 2006 FCA grant, Chan received the 2014 Hugo Boss Prize administered by the Solomon R. Guggenheim Foundation.
He received a B.F.A. from the School of the Art Institute of Chicago in 1996 and an M.F.A. from Bard College in 2002.