Raven Chacon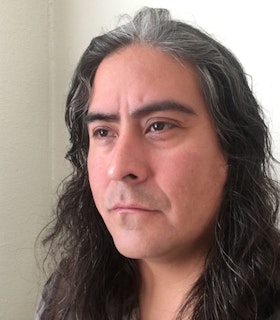 Artist Statement
I am a listener. My belief is that sound work cannot be made in isolation. These are acoustic, conceptual responses to land; they seek to acknowledge the people who have history in those places. There is a pedagogical and a generative feedback loop within these land-based practices. Composition and improvisation are the foundations of my work as an artist and teacher. Questioning the accessibility of tools or knowledge allows me to reframe the medium itself—whether sound, music, performance, video, or otherwise. This reframing can further the idea that an artwork can take a variety of mediums or forms that are inclusive, expansive, and guided by openness and the will to experiment.
- December 2021
Biography
Originally from Fort Defiance, Navajo Nation, Raven Chacon's work spans chamber composition, electronic noise music, installation art, and performance. Chacon's sound practice explores the synthesis of the acoustic and electronic, constructing instruments that incorporate elements of both while also speaking to the culture and heritage of Indigenous peoples.
Chacon's Sweet Land (2020), co-composed with Du Yun, is a multi-perspectival opera alive with traditional folk-influence, electronic noise, and atonality. Staged in Los Angeles State Historic Park, Sweet Land calls into question the site upon which it takes place even as it disintegrates myths surrounding Manifest Destiny and American identity. Sweet Land received critical acclaim from The Los Angeles Times, The New York Times, and The New Yorker, and won the 2021 Music Critics Association of North America's Best New Opera Award.
Other of Chacon's works have been exhibited and performed at Haus der Kulturen der Welt, Berlin, Germany (2021); Los Angeles County Museum of Art, Los Angeles, CA (2021); The Renaissance Society, Chicago, IL (2020); Vancouver Art Gallery, Vancouver, British Columbia, Canada (2012); and REDCAT, Los Angeles, CA (2011), among others. As a member of the Indigenous art collective Postcommodity from 2009-2018, he co-created artworks presented at the 57th Edition of the Carnegie International, Pittsburgh, PA (2018); documenta 14, Athens, Greece and Kassel, Germany (2017); the Whitney Biennial, New York, NY (2017); as well as the two-mile long land art installation Repellent Fence (2015). In 2015, Postcommodity received a Foundation for Contemporary Arts Emergency Grant to present the video work Gallup Motel Butchering at the Knockdown Center in Queens, NY (2015).
As a recording artist, Chacon has appeared on more than 80 releases published by national and international labels. He is the founder of the record label Sicksicksick Distro, releasing lesser-known, experimental music from the Southwest.
Chacon has received fellowships from the Pew Center for Arts & Heritage (2020); United States Artists (2016); and The Native Arts and Cultures Foundation (2014). He has been awarded The American Academy's Berlin Prize for Music Composition (2018) and the Creative Capital Award in Public Art (2012).
His works are included in the collections of the Whitney Museum of American Art, New York, NY; Smithsonian American Art Museum, Washington, D.C.; National Museum of the American Indian, Washington, D.C.; and Los Angeles County Museum of Art, Los Angeles, CA.
As an educator, Chacon has taught courses at Bard College, Institute of American Indian Arts, University of New Mexico, University of British Columbia Okanagan, Colorado College, and California College of the Arts. For the Native American Composer Apprenticeship Project, he mentors high school Native composers in writing new string quartets. He holds an M.F.A. in music from the California Institute of the Arts and a B.A. in music from the University of New Mexico.