Du Yun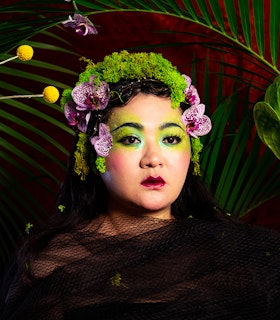 Artist Statement
Any statements out of 2020 seem like an afterthought.
I could only whisper to you that I am myself a home.
Home is not a place of surrounding myself with walls but to invite other people in.
I, too, hope you will resonate your reverberance and lineage in my voice. And in them, we find a place of refuge, and then some blossoming strength.
- December 2020
Biography
Du Yun works at the intersection of opera, orchestral, theater, cabaret, musical, oral tradition, public performances, electronics, visual arts, and noise. Her work is known for its originality and social consciousness.
Du Yun's second opera, Angel's Bone (2017), tells the story of a couple from middle-America who find two angels in their backyard. After nursing the angels back to health, they clip their wings and exploit them to make money. The work integrates a wide range of musical styles with a libretto by Royce Vavrek; it won a Pulitzer Prize in Music.
A community champion, Du Yun was a founding member of the International Contemporary Ensemble and currently serves on its board. She served as the Artistic Director of the Music at the Anthology Festival (2014-2018); conceived the Pan Asia Sounding Festival (launched by National Sawdust); and founded FutureTradition Initiative, a global initiative that illuminates the provenance lineages of folk art and uses these structures to build cross-regional collaborations from the ground up.
As an avid performer and the bandleader of Ok Miss, her onstage persona was described by the New York Times as "an indie pop diva with an avant-garde edge." Sweet Land, her collaborative opera with composer Raven Chacon and The Industry, was named a 2020 "best classical moment" by the Los Angeles Times. Du Yun was nominated for a GRAMMY Award in the Best Classical Contemporary Composition category for "Air Glow" from her album Dinosaur Scar (2019). She was named Artist of the Year by the Beijing Music Festival (2019), a Guggenheim Fellow in Music Composition (2018), and a Great Immigrant Honoree by the Carnegie Corporation of New York (2018). Her studio albums were named "year end notable recording" by The New Yorker, in 2017, 2018, and 2020.
Du Yun received a Ph.D. in music composition from Harvard University. She is Professor of Composition at the Peabody Institute of The Johns Hopkins University and a distinguished visiting professor at the Shanghai Conservatory of Music.