Ron Kuivila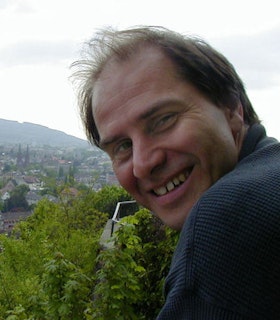 My thought was to create a piece that was as inescapable as the weather, as familiar as the weather, and, like the weather, was too big to fully experience directly. I doubt I would have conceived a project as big as this if it were not for the support of FCA.
- Ron Kuivila, January 15, 2009
Artist Statement
Loudspeakers rarely produce sparks,
The world has many, many different busy signals,
Dutch tram bells sound like slowed down bicycle bells,
No two watches tell the same time,
Trains passing a movie theater, unheard but visible through a sound-proof window.
My work starts for that wonderful discovery that music can be a way of listening. Some pieces form with an influence. Something that makes me hear (see, feel, think, know) one thing rather than another thing. The question becomes, how about that other thing? What is the least I can do that allows it on stage as well? Perhaps this is simply a desire for clarity and tidiness in gluttony. How many sounds can I really hear at once? There are other ideas, issues, obsessions at work as well, of course. But the one rule of thumb I return to again is: "if the piece is in trouble, lower the volume until you can hear everything that contributes." As we get ever deeper into this era of content untroubled by experience, it is harder and harder to do.
- December 2007
Biography
Ron Kuivila is a sound artist and composer. He creates instruments of his own design for performances as well as installations. Kuivila's work challenges what one can hear simultaneously. He samples sounds from many different situations, and he is influenced by nature as well as artifice.
Prior to receiving his 2008 Grants to Artists award, Kuivila had shown his sound installation work at MASS MoCA (1999-2007); V2 Organization, Holland (2000); and Donaueschinger Musiktage, Germany (2000); WDR Spring Festival, Germany (2002); DeCordova Museum, Massachusetts (2003-2004); and the Moyland Museum, Germany (2007); among others. He had also performed at BYOL Festival, Italy (2003); Center for Contemporary Music at Mills College (2004); Diapason Gallery, New York (2006); and the HFG Karlsruhe, Germany (2006).
With his 2008 FCA grant, Kuivila purchased a new sound system and computer in order to produce his sound installation The Weather, at Six (2009). In this piece, he synthesized the sound of bells in Wesleyan University's South College bell tower to create sonic representations of weather data collected for the current date over 130 years prior to the installation. The composition for each day ran between five and fifteen minutes. Every day at 6:00 p.m., speakers mounted in the bell tower played "today's weather" with a rhythmic structure derived from the pattern of rainy (or snowy) days and bell selections following the contour of daily temperature readings.
Before receiving his 2008 Grants to Artists award, Kuivila received grants and commissions from National Endowment for the Arts (1979-80), Ars Electronica, Austria (1988), New York State Council on the Arts (1989), and the Jerome Foundation, among others. He has been an Artist-in-Residence at the Institute for Studies in the Arts at Arizona State University (1998-1999), DAAD Berlin (1999-2000), the Rockefeller Foundation's Bellagio Study and Conference Center (2003), and Mills College (2005).
Kuivila received his B.A. from Wesleyan University in 1977, where he studied with Alvin Lucier. He earned an M.F.A. from Mills College in 1979, where he studied with Robert Ashley and David Behrman. He was a 2006 Visiting Professor at Brown University. He is Chair of the Music Department at Wesleyan University.