Sean Meehan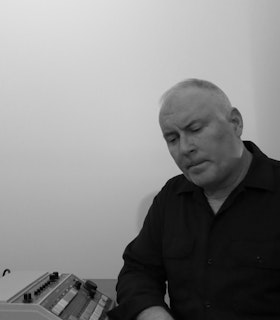 The cash prize was wonderful on multiple levels. It inspired a host of projects I would not be able to otherwise initiate. Pursuit of these projects has been stymied by the pandemic, but I hope to begin using some of the funds for a variety of creative works once travel and assembly are again possible.
I cannot overstate the great security the award offered me in light of the pandemic. Faced with potential loss of income, eviction, and food insecurity, the award—and FCA's subsequent relief funds—provided a buffer against an uncertain future, the existential threat of which otherwise would have been crippling. It also allowed me to be more generous with others who were directly affected by the pandemic. Helping friends pay for funerals, health care, food, and housing at a level I would not have been able to without the award.
- Sean Meehan, December 20, 2020
Biography
Sean Meehan is a drummer who most notably plays a pared-down kit often consisting of a single snare drum and cymbal, creating sounds that range from the subtle friction of a fork rubbing against a drum to tones that seem electronically-generated. These complex, sometimes subtle sonorities require a great deal of concentration for the performer and listener, foregrounding the act of listening just as much as the production of sound, and bringing the audience's attention to both spatial acoustics and social interactions within a space.
Meehan traces much of his development as a musician to the time he spent as a teen in the public library, in particular reading Downbeat Magazine's Blindfold Tests, for which magazine staff would play recordings for jazz musicians without identifying the artists. The guest musician would comment and guess whom they were hearing. From this he understood the importance of having a unique sound and language. How to obtain that goal was informed by other books Meehan selected for the provocative titles running down their spines: As Serious As Your Life: Black Music And The Free-Jazz Revolution, 1957-1977, by Valerie Wilmer helped him understand that the way to one's own music was for it to be a reflection of one's particular social context, politics, and inner being; and from a distant shelf, On the Sensations of Tone as a Physiological Basis for the Theory of Music by Hermann von Helmholtz provided a lifetime of information and inspiration.
Some of Meehan's early performances were at the Amica Bunker series for improvised music, located at the Anarchist's Switchboard and later at ABC No Rio, New York. Since then, he has presented at many venues, including the Instal Festival, Glasgow, The Whitney Biennial, Lincoln Center for the Performing Arts, and Goethe-Institut, Hanoi, but he primarily performs at small, informal, transient spaces and artist-run festivals.
For nearly twenty years, Meehan and saxophonist Tamio Shiraishi presented a summer concert series, always in different locations in New York City that Meehan considered to be marginal. Meehan's work with Shiraishi most directly reflects his interest in urbanism, which includes the acts of walking, writing, filmmaking, and talking to strangers, as well as the practices or concepts of social history, cartography, community control of land, foreclosure and eviction prevention, and tenant advocacy. Three of these concerts have been documented on LP: In the City (Fusetron, 2003) and Summer Concerts 2002 & 2003 (GD Stereo, 2005). In 2007 the duo worked with Arika, a cultural presenter in Scotland, to mount a condensed multi-concert version of these works in similarly "marginal" locations throughout the United Kingdom.
His other significant collaborators include: John Dierker, Geoff Dugan, Michelle Ellsworth, James Fei, Ellen Fullman, Paul Hoskin, Greg Kelley, Andrew Lafkas, Sachiko M, Ben Manley, John McCowen, Ken Montgomery, Toshimaru Nakamura, Kendall Pigg, Matthew Sperry, Edwin Torres, Taku Unami, Barry Weisblat, and Barry Wolifson.
Meehan also makes music-related objects, intended to be used in the way recordings are, but within the listener's imagination, rather than aurally. These include Field Recordings Vol 3 (2003) a folio of letterpress cards, and Audio (2001) a boxed set of four cassette-like objects. These too are rooted in Meehan's early experiences in the library imagining what free jazz sounded like based on Wilmer's descriptions long before actually hearing it, and imagining the swirling, beating tones of Helmholtz's Victorian-era experiments, which Meehan paid homage to in the abridged book-on-tape Meehan Reads Helmholtz (2017).
Meehan completed both his M.A. and M.U.P. at Hunter College of the City University of New York before obtaining his J.D. at the City University of New York School of Law.