Toshi Ichiyanagi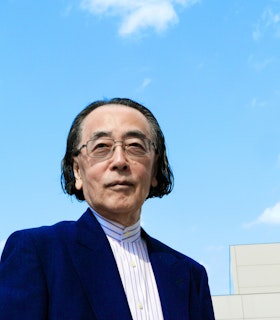 Artist Statement
In my creation (composition), I have been trying to let various elements, which have often been considered separately as contrast and opposite in music, coexist and penetrate each other.
Music has been defined as temporal art, however the temporal elements of music have been gradually decreased and lacking since the late 19th century. I feel that we need to compensate for the lack of those elements and introduce new elements, which can be alternative to them, in my case, it is substantial space, in order to restore the spiritual richness that music provides. The conceptual elements, which can be considered as contrast and opposite, are, for instance, the East and the West, relativeness and absoluteness, nature and artificiality, and ancientry and modernity. The wall between composing and performing, which have been highly specialized in modern times, can also be counted among them.
In my country, Japan, our traditional performing arts have not been having such a division since early times. It gives me lots of stimulation and courage to think of the creation of new music.
I try to release the performer from the role of interpreter by employing graphic notations, sense of Japanese tradition and more flexible way of notating on the five lines as a technical method.
Biography
Toshi Ichiyanagi was one of the most prominent Japanese composers and pianists, and is credited with introducing many avant-garde musical concepts to Japan. He studied composition under John Cage, Kishio Hirao, and Tomojiro Ikenouchi, and piano under Chieko Hara and Beveridge Webster.
After the 2011 Tōhoku earthquake and tsunami, Ichiyanagi fervently created new work. His Symphony No.9 premiered in 2015, Concerto for marimba and orchestra in 2013, and Symphony No.8 and Piano Concerto No.5 in 2012. His works were featured at the 18th COMPOSIUM Festival in Tokyo (2016), including the premiere of Piano Concerto No.6, in which Ichiyanagi himself was a soloist.
Ichiyanagi toured and presented his work extensively throughout Europe, Japan, and the United States. He received commissions from the Pro Musica Nova Festival, Bremen, Germany (1976); Metamusik Festival, Berlin, Germany (1978); Cologne Festival of Contemporary Music, Cologne, Germany (1978, 1981); Holland Festival, Amsterdam, Netherlands (1979); and the Berliner Festspiele, Berlin, Germany (1981). He presented and premiered his work at Carnegie Hall, New York; Seibu Theatre, Tokyo, Japan; and the Théâtre des Champs-Élysées, Paris, France. In the 1980s and 1990s Ichiyanagi presented several large-scale works commissioned by the National Theatre of Japan, including Ôgenraku, Clouds Shore, Wind Roots, and Reigaku Symphony "The Shadows Appearing through Darkness." In 1989, he premiered Reigaku Symphony No.2 "Jitsugetsu Byobu Isso ― Kokai," using two halls of the National Theatre simultaneously.
In 1989 Ichiyanagi formed the Tokyo International Music Ensemble―The New Tradition (TIME), an orchestral group focused on traditional instruments and shomyo, a style of Japanese Buddhist chant. TIME toured across the United States and Europe. Ichiyanagi served on the jury for the Toru Takemitsu Composition Award in 2016; as the artistic director of Ensemble Origin―A Millennium of Resonance; as the artistic director of the Kanagawa Arts Foundation; on the board of the Saison Foundation; as an adviser of the Japan Music Competition; and as a councilor of Suntory Foundation for Arts. He was a Composer-in-Residence at DAAD Berlin (1976), and at the Pacific Music Festival (2004).
Ichiyanagi was the recipient of countless awards and honors, including the Elizabeth A. Coolidge Prize (1955), Serge Koussevitzky Prize (1956), and Alexander Gretchaninov Prize (1957) from the Juilliard School; first place in the Mainichi Music Competition (1949, 1951); Grand Prix of the Nakajima Prize (1984); L'ordre des Arts et des Lettres of the French Republic (1985); Mainichi Newspaper Art Prize (1989); Kyoto Music Grand Prize (1989); Suntory Music Prize (2002); and the Japan Art Academy Prize and Imperial Prize from the Japan Art Academy (2017). He was awarded a Medal with Purple Ribbon (1999) and Order of the Rising Sun, Gold Rays with Rosette (2005) from the Japanese Government, and has been recognized as a Person of Cultural Merit since 2008. He received five Otaka Prizes for Symphony No.10 (2016), Symphony "Berlin Renshi" (1990), Piano Concerto No.2 "Winter Portrait" (1989), Violin Concerto "Circulating Scenery" (1984), and Piano Concerto No. 1 "Reminiscence of Spaces." (1981).