Young Jean Lee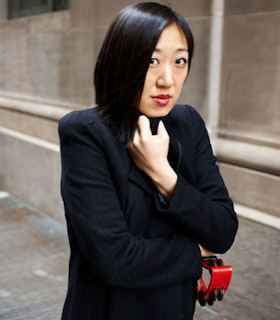 The difference [the grant] has made in my daily artistic life and my anxiety about my financial future is immeasurable.
- Young Jean Lee, January 19, 2007
Artist Statement
When starting a play, I ask myself, "What's the last show in the world I would ever want to make?" Then I force myself to make it. I do this because going out of my comfort zone compels me to challenge my assumptions and find value in unexpected places. I write my shows as I'm directing them, working collaboratively with my performers and artistic team and getting feedback from workshop audiences. Our goal is to find ways to get past our audiences' defenses against uncomfortable subjects and open people up to confronting difficult questions by keeping them disoriented and laughing. My work is about struggling to achieve something in the face of failure and incompetence and not-knowing. The discomfort and discovery involved in watching this struggle reflects the truth of my experience.
- December 2014
Biography
Young Jean Lee is a writer, director, filmmaker, and experimental playwright. She has written and directed many shows in New York as the artistic director of her nonprofit Young Jean Lee's Theater Company, and toured her work to over 30 cities globally.
Lee's credits as writer and director include Groundwork of the Metaphysics of Morals (2003), The Appeal (2004), and Pullman, WA (2005). Her 2006 FCA grant supported Songs of the Dragons Flying to Heaven (2006). Her works subsequent to her 2006 Grants to Artists award include Church (2007), The Shipment (2008), Lear (2009), Untitled Feminist Show (2010), and Straight White Men (2013).
Lee's first short film, Here Come the Girls (2013), was presented at The Locarno International Film Festival, Sundance Film Festival, and BAMcinemaFest. Her work has also been presented at the Baryshnikov Arts Center, LCT3/Lincoln Center Theater, Joe's Pub, Soho Repertory Theater, The Kitchen, The Public Theater, Performance Space 122, and HERE Arts Center. Her work has toured throughout the United States and internationally at venues in Paris, Vienna, Berlin, Zurich, Budapest, Seoul, Sydney, and elsewhere.
Subsequent to her 2006 Grants to Artists award, Lee received a Brooklyn College Young Alumni Award (2009), two OBIE Awards (2007, 2011), a Prize in Literature from the American Academy of Arts and Letters (2010), a John Simon Guggenheim Memorial Foundation Fellowship (2011), a Doris Duke Performing Artist Award (2012), and a Doris Duke Artist Residency (2013).
Lee has completed residencies at the MacDowell Colony, the Ucross Foundation, Hedgebrook, the Park Avenue Armory, Orchard Project, HERE Arts Center, and Brooklyn Arts Exchange. She has also received funding from the National Endowment for the Arts, the New York State Council on the Arts, the Rockefeller MAP Fund, the Andrew Mellon Foundation, Creative Capital, the Greenwall Foundation, the Jerome Foundation, the New York Foundation for the Arts, the Arts Presenters/Ford Foundation Creative Capacity Grant, the Barbara Bell Cumming Foundation, and the New England Foundation for the Arts: National Theater Project Award.
Lee graduated from the University of California, Berkeley with a degree in English. She holds an M.F.A. from Brooklyn College, where she studied playwriting with Mac Wellman. She is on the board of Yaddo.