Christian Wolff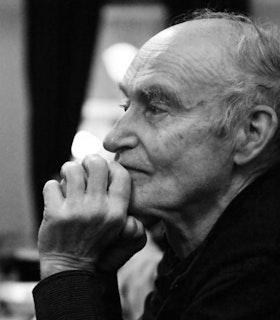 Biography
Christian Wolff is a composer, performer, improviser, and author. He composes experimental classical music and was associated with the "New York School." At that time, Wolff was pioneering the use of indeterminacy in composition, using open scores that require the performer to interpret them. In the late 1960s, Wolff responded to the civil rights movement and the Vietnam War by incorporating protest music into his work, although it is frequently unidentifiable as such. He often composes for prepared piano and his work demonstrates an interest in the space between sounds.
Though mostly self-taught as a composer, associations with John Cage, Morton Feldman, David Tudor, Earle Brown, Frederic Rzewski, and Cornelius Cardew were important to his work. Beginning in 1953, Wolff created numerous pieces for the Merce Cunningham Dance Company, and he and Merce Cunningham worked in a uniquely collaborative manner. Wolff performed in the live musical ensemble accompanying the Company's farewell "Legacy" tour.
Among Wolff's major pieces are For Prepared Piano (1951), Duo for Pianists I (1957), For 1, 2 or 3 people (1964), Prose Collection (1968-71), Pairs (1968), Edges (1968), Burdocks (1970-71), Wobbly Music (1975-76), Piano Song (I am a Dangerous Woman) (1983), I Like to Think of Harriet Tubman (1985), Piano Miscellany (1988), Percussionist Songs (1994-95), Ordinary Matter (2001-04), John Heartfield (2002), and Microexercises (2006). Wolff improvised with AMM, Takehisa Kosugi, Christian Marclay, Keith Rowe, Steve Lacey, Larry Polansky, and Kui Dong. Sonic Youth and collaborators played Wolff's Burdocks on their Goodbye, 20th Century (1999), an album they recorded of work by avant-garde classical composers.
Previous to receiving his 1996 John Cage Award, Wolff received awards and grants from Meet the Composer, DAAD Berlin (1974), the American Academy of Arts and Letters (1975), the Fromm Foundation, the Asian Council (1987), and The Andrew W. Mellon Foundation. In 2010, Wolff was Composer-in-Residence at the New England Conservatory and premiered his Songs from Brecht: The Exception and the Rule, which he later performed at the Isabella Stewart Gardner Museum.
Wolff studied music with Grete Sultan and composition briefly with John Cage. He earned a B.A. and a Ph.D. in Classics from Harvard University, where he taught Classics until 1970. At Dartmouth College he taught Classics, Comparative Literature, and Music, and is a Strauss Professor of Music Emeritus. He has received honorary degrees from the California Institute of the Arts and the University of Huddersfield. Wolff is a member of the Akademie der Kuenste in Berlin and the American Academy of Arts and Sciences.