Christopher Williams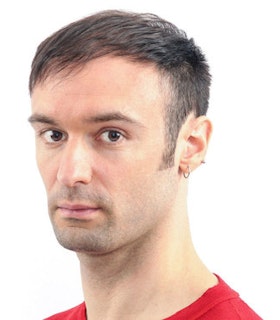 When the news reached my ears that I was a recipient, I knew for the first time I would be able to produce a new creative work as I had dreamed it would be, rather than having to make the closest approximation of it due to a lack of funds... To successfully complete a first season at Danspace Project and not be in debt afterward was simply phenomenal.
- Christopher Wiliams, January 2007
Artist Statement
A curious "alchemist of theatre" who naturally dissolves boundaries between a variety of art forms, I continue to hone a distinctive style that commingles experimental dance with visual art, puppetry, poetry, and live music. Preferring to cast each new work specifically rather than maintaining a set company, I assemble a wide variety of performers that juxtapose many body types and span many ages in order to instill each of my pieces with an unusual corporeal counterpoint. I am particularly interested in expanding the scope of performance by rigorously re-examining the relationship of historical literature, early and contemporary music, sculptural costume, mask, and puppetry to the gesture of the human body. I notice an intricate harmony between seemingly disparate forms due to their common potential for movement, and find compelling instances of visual, emotional, and spatial "polyphony" therein. In my work, the body of a dancer can move independently or become an armature upon which to sculpt, a musical vessel, a visage upon which masks may appear, a medium through which puppets can rouse, and even a sort of time machine. Fascinated by the ways in which ritualized performance may "embody" the folklore and mythology that has pervaded the art, literature, music, and dance of many cultures, I re-imagine ancient themes in contemporary contexts. Although I experience a peculiar nostalgia for earlier civilizations that pondered the existence of unknown loci, flora, fauna, and the supernatural, I see contemporary performance practice as a further expression of the innately human impulse to explore the wonders of our universe. By commingling a detailed choreographic vocabulary with creatively combined visuals and live sonorous elements, I aim to provide a vital sense of ritual and spectacle in order to immerse a broad public in fantastical new worlds.
- December 2014
Biography
Christopher Williams is a choreographer, dancer, and puppeteer devoted to crafting movement-based works in New York City and internationally since 1999. He has performed for Douglas Dunn & Dancers, Tere O'Connor Dance, Rebecca Lazier, John Kelly, Mina Nishimura, Michou Szabo, Yoshiko Chuma & the School of Hard Knocks, Dan Hurlin, and Basil Twist, among others.
Before receiving his 2006 Grants to Artists award, Williams presented his work at HERE Arts Center (2003), La Mama E.T.C (2003), and Performance Space 122 (2005). Williams's 2006 FCA grant supported his first season at Danspace Project that included performances of his original work The Portuguese Suite (2006), as well as excerpts from Urusla and the 11,000 Virgins (2005) and the then work-in-progress The Golden Legend (2009). The Golden Legend, inspired by a thirteenth-century text by Jacobus de Voraigne, featured seventeen male saints, two movement choruses, puppets, and medieval and contemporary musical compositions. The cast included several "downtown" New York dance artists, including Jonah Bokaer, Julian Barnett, Reid Bartelme, Dylan Crossman, Chris Elam, Chris M. Green, John Kelly, Aaron Mattocks, Luke Miller, David Neumann, David Parker, Glen Rumsey, Keith Sabado, Rommel Salveron, Stuart Singer, Paul Singh, and Gus Solomons.
Since receiving his 2006 Grants to Artists award, Williams has been commissioned by Princeton University (2007), New York University's Tisch School of the Arts (2007, 2008), Dance Theater Workshop (2009, 2010), Harkness Dance Center (2011, 2015), Philadelphia Dance Projects (2013), the Perm Opera & Ballet Theatre in Russia (2013), Teatro Real in Spain (2013), Dickinson College (2014), the English National Opera (2015), the Opéra National de Bordeaux (2015), and 10 Hairy Legs (2015). His works have also been presented in New York City venues including City Center (2006), Joyce SoHo (2006, 2010), Symphony Space (2007), Dixon Place (2007, 2008), Judson Church (2008), La Mama E.T.C. (2007, 2008), the Spiegeltent (2008), and Dance New Amsterdam (2006, 2009-2010). His collaborators have included director Peter Sellars, composer Gregory Spears, visual artist and costume designer Andrew Jordan, as well as members of music ensembles including Anonymous 4, Lionheart, and Ensemble Pygmalion.
Williams received a New York Dance & Performance "Bessie" Award for his work Ursula and the 11,000 Virgins (2005). Subsequent to his 2006 Grants to Artists award, Williams has received grants/fellowships from the Greenwall Foundation (2006, 2008, 2010), The Bogliasco Foundation (2008, 2013), the O'Donnell-Green Music & Dance Foundation (2009, 2011), and the New York Foundation for the Arts (2010) from whom he also receives long-term fiscal sponsorship. He has also held creative residencies at Joyce SoHo (2006), Dance New Amsterdam (2006, 2009-2010), Movement Research (2007-2009), Yaddo (2010, 2014), the Watermill Center (2012), Mount Tremper Arts (2014), and on Captiva Island via the Robert Rauschenberg Foundation (2016). Prior to his 2006 FCA grant, Williams held creative residencies at the Djerassi Resident Artists Program (2002), through the Dream Music Puppetry Program as part of the HERE Artist Residency Program (2003), Yaddo (2005), and The Yard (2004).
Williams holds degrees from the École Internationale de Théâtre Jacques Lecoq in Paris (1998) and Sarah Lawrence College (1999). Williams holds degrees from the École Internationale de Théâtre Jacques Lecoq in Paris (1998) and Sarah Lawrence College (1999).