Ikue Mori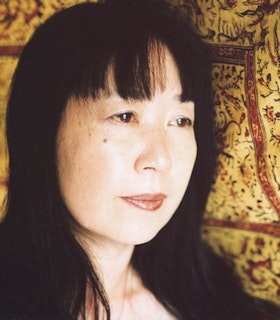 This grant made it possible to expand my video creating system and finish up a DVD project by adding animation and music. [The grant] also made it possible to start a totally new piece for eight speakers... It has been a very productive year and I appreciate the fact that there's support for an artist like myself.
- Ikue Mori, February 6, 2007
Artist Statement
I am primarily known as a musician who has developed her own unique sound with drum machines and uses it both in compositional and improvisational formats, performing live on laptops with many different musicians.
I think what has always differentiated my work from others using similar technology is the musical community that I have worked in (largely improvised and experimental). These musicians have really pushed me to develop a personal language. Musical personality, sensitivity, great sounds and the ability to interact and react with other musicians are for me what makes music great. The thing is, commercially available drum machines or computers are hardly the obvious paths to this kind of personal musicality. In my work there is a contradictory but rich interplay between (the ideas of) fake and real, between pre-programmed and spontaneous, human and machine. Ultimately I want to make music that comes from within and not something that is merely technologically impressive.
- December 2005
Biography
Ikue Mori moved from Tokyo to New York in 1977. She started playing drums and soon formed the generative no-wave band DNA with Arto Lindsay. In the mid 1980s Mori started to employ drum machines in the context of improvised music. Since the 1990s, she has collaborated with musicians and artists throughout the United States, Europe, and Asia, while continuing to produce and record her own music. Beginning in 2000, Mori started using a laptop computer to expand her vocabulary; not only playing sounds, but creating and controlling the visual work as well.
Mori's published solo recordings include Garden (1996), Labyrinth (2001), and Myrninerest (2005). Her 2006 Grants to Artists award supported her project Kibyoshi, a multi-speaker piece. In 2007, The Tate Modern commissioned Mori to create a live soundtrack for screenings of Maya Deren's silent films. Mori's collaborations with artists include Mephista with Sylvie Courvoisier and Susie Ibarra, Phantom Orchard Ensemble with Zeena Parkins, Kibyoshi with Koichi Makigami and Mark Nauseef; and projects with John Zorn and Kim Gordon.
Commissioners of Mori's work include the Montalvo Arts Center, Südwestrundfunk German radio program, Relâche, the Mary Flagler Charitable Trust, and Sharjah Art Foundation in United Arab Emirates.Prior to her 2006 Grants to Artists award, Mori had received a Prix Ars Electronica Award of Distinction (1999), a Civitella Ranieri Foundation Fellowship (2000), and she participated in the Ucross Foundation Residency Program (2005).
Mori has lectured and taught workshops at institutions including the University of Gothenburg, Dartmouth College, the New Music Conservatory at Mills College, and Stanford University.