Jennifer Nikki Kidwell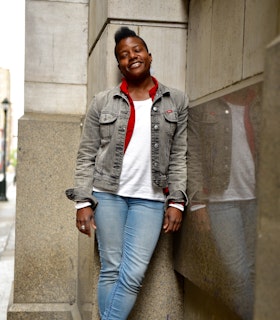 Artist Statement
My work celebrates what exists at our margins: the aberrant and abhorrent truths and systems that normativity would have us overlook and deny. Whether self-initiated or interpretive, it's concerned with discomfort and/or confusion around normative practices and systems. I always want it to exceed the perceived limitations of my own abilities, certainly, but more importantly to challenge limitations for what is possible or probable at all.
- December 2022
Biography
Drawing on her training in clown and physical theater, Jennifer Nikki Kidwell is a performing artist who makes research intensive, performer-driven works that interrogate and challenge prescribed ways of being. By embracing discomfort and disrupture, she invites all involved to step out of their comfort zones and into the unexpected.
Those With 2 Clocks, created by Tall Order (Kidwell's collaboration with Jess Conda and Mel Krodman) and doula-ed by Rosie Herrera, premiered at The Wilma Theater, Philadelphia, PA (2022). The work uses comedy, cabaret, and drag as tools to critique patriarchy, and somatics as a means of healing through it.
Kidwell and her collaborator with Scott Sheppard premiered Underground Railroad Game at Ars Nova, New York, NY (2016); the play subsequently toured to Woolly Mammoth Theatre Company, Washington, D.C. (2018); Soho Theatre, London, United Kingdom (2018); The Fisher Center at Bard College, Annandale-on-Hudson, NY (2019), and other venues throughout the United States and Europe. Underground Railroad Game has been recognized with a 2017 Obie Award for Best New American Theatre Work and a 2018 Scotsman Fringe First Award at the Edinburgh Fringe Festival. The work was also nominated for a Lucille Lortel Award for Outstanding Achievement Off-Broadway (2017) and a Helen Hayes Award from Theatre Washington (2019).
As a performer/collaborator, Kidwell has worked with the theater and performance artists Dan Hurlin, Jaamil Olawale Kosoko, David Neumann/Advanced Beginner Group, Geoff Sobelle, and Adrienne Truscott, among others. She also performed in Zinnias: the Life of Clementine Hunter (2018), an opera by Robert Wilson, Toshi Reagon, Bernice Johnson Reagon, and Jacqueline Woodson, and worked with Joe Scanlan to perform Dick's Last Stand as the fictional artist Donelle Woolford at the Whitney Biennial, New York, NY (2014); The Kitchen, New York, NY (2014); and the Museum of Contemporary Art Detroit, Detroit, MI (2014).
Kidwell has received a Ruth Maleczech "Ruthie" Award from Mabou Mines (2020), a Mary MacKall Gwinn Hodder Fund grant from Princeton University's Lewis Center for the Arts (2020), Leeway Foundation Art and Change Grants (2021, 2015), an Independence Foundation Fellowship in the Arts (2018), The Pew Center for Arts and Heritage Fellowship (2016), and a Theatre Communications Group Fox Foundation Resident Actor Fellowship (2013).
Kidwell received a B.A. from Columbia University. She is an Associated Artist with The Wilma Theater and a co-founder of JACK, a nonprofit performance space in Brooklyn, NY. Kidwell was a 2021 Visiting Artist at the University of Pennsylvania and a 2020 Visiting Artist at Duke University. Her writing has been published in the Movement Research Performance Journal and Hyperallergic.