Jim Findlay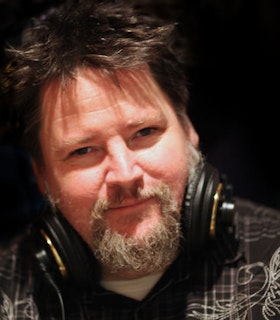 During this year I was able to complete development and produce a run at Westbeth Arts Center of a new work titled Vine of the Dead (VOD) that I wrote, directed, and performed in... The piece is foremost a live performance event in which I and interactive "maker"/hacker and designer Ryan Holsopple used biometric technology as an ecstatic invitation into alternate realms of perception and consciousness. My text grappled with personal experiences of death and transcendence while trying to create a spiritual ritual for the deeply skeptical... I am eternally grateful for the support that I received from the FCA that made the development and production of VOD possible. The project was enormously positive on a personal, artistic, and professional level... The FCA grant was a crucial part of the total project funding that enabled me to create a unique and moving performance work.
- Jim Findlay, December 11, 2015
Artist Statement
My passion as an artist is to create unique events that openly engage, grapple with, and expand the terrain of what live performance is now and will be in the future. My two decades of diverse professional practice crosses conventional artistic specialties and boundaries, and is fueled by a passion to examine, question, and reinvent the theater event itself through bold experimentation in form, content, and technology.
My most recent work focuses on terrains that are ubiquitous, but overlooked; the things right under our noses. Botanica (2012) focused on the relationship between humans and plant life; Whisper Opera (2013), with David Lang, explored just how quiet music could be; and Dream of the Red Chamber (2014) was a performance made explicitly for a sleeping audience. My newest project, Vine of the Dead (2015), is a sincere attempt to reach across the divide between life and death.
I am hugely indebted and influenced by the wide array of artists that I've had the good fortune to work with as collaborators from Radiohole, The Wooster Group, Ridge Theater, Bang on a Can, Cynthia Hopkins, Ralph Lemon, David Lang, and so many others.
- December 2014
Biography
Jim Findlay works across boundaries as a theater artist, visual artist, and filmmaker. His theater work includes his productions Dream of the Red Chamber, a performance for a sleeping audience (2014) and Botanica (2012). In 2013 he directed and designed David Lang's Whisper Opera for Chicago's Museum of Contemporary Art and Lincoln Center's Mostly Mozart Festival. In 2011, the video installation Meditation (which he created in collaboration with Ralph Lemon) was acquired by the Walker Art Center for its permanent collection. His 3D film adaptation of Botanica (2012) was commissioned and produced by 3LD Art+Technology Center and will be released in 2015.
Findlay was a founding member of The Collapsable Giraffe in 1995 and, in partnership with Radiohole, founded and helped Collapsable Hole from 2000 to 2013. He was a founding member of the music/media performance company Accinosco/Cynthia Hopkins, as well as a resident artist at The Wooster Group from 1994 to 2003. Findlay has maintained a twenty-year career as a performance-maker with other theater, performance, and music groups, and has served as a director, designer, and performer with many of New York's avant-garde companies and artists including Radiohole, Ralph Lemon, David Lang, Michael Gordon, Bang on a Can, Bill Morrison, Aaron Landsman, Mallory Catlett, and Ridge Theater. His work has been seen at Brooklyn Academy of Music, Lincoln Center, Carnegie Hall, Arena Stage, American Repertory Theater, Center Theater Group, Yerba Buena Center for the Arts, The Kitchen, Performance Space 122, and Baryshnikov Arts Center, among others, and over 50 cities worldwide including Berlin, Istanbul, London, Moscow, and Paris.

Previous to receiving his FCA support, Findlay received fellowships from the Princess Grace Foundation (1999), grants from the Jerome Foundation for his work with Collapsable Giraffe, a MacDowell Colony Fellowship (2012), and Rockefeller MAP Fund Grants for Vine of the Dead and Botanica (2012, 2013). Findlay received a 2003 Obie Award for Collapsable Giraffe, the company he co-founded, and a 2007 New York Dance and Performance "Bessie" Award for Design in Cynthia Hopkins' Must Don't Whip 'Um.
Findlay received his B.A. from Duke University and his M.F.A. from the Catholic University of America.