John King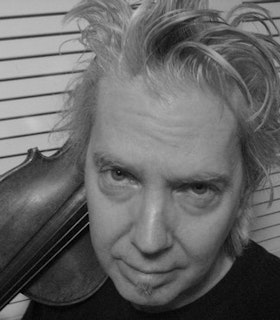 These have been very inspiring projects and could not have been imagined much less completed without the award from FCA. The mental space freed up with such an award left vast amounts of open imagination to be filled with these new projects. This was for me the true gift of this award—giving me great emptiness within which to create.
- John King, December 12, 2014
Artist Statement
Recently, I've been interested in exploring new ways of organizing musical time. I use what I call "time-vectors" to chance-determine when sonic material is played, stretching out time, compressing time, and having performers play similar material but allowing the sounds to overlap and expand and contract in varying and random ways. The materials, which fit into these "vectors," are a secondary effect of this primary cause––Time. I have also been working on a five-hour long piece for string quartet and live electronics calledKOSMOS.I hope to have it completed and performed sometime in 2014. This piece also organizes time in chance-determined ways and allows the four players to perform independently from each other, with randomly determined moments of cohesion of the musical materials, which then dissipate and their independence continues. In my music, there are always three systems interacting: determinate/composed, chance-determined, and spontaneous/improvised music. This trilogic network is used in both the acoustic and electronic sonic realms of my work, and I'm always looking to discover new approaches to these materials and their modalities.
- December 2013
Biography
John King is a composer, guitarist, and violist. He has received commissions from the Kronos Quartet, Brooklyn Youth Chorus, the Brooklyn Academy of Music, the Ethel quartet, the Albany Symphony, the Bang On A Can All-Stars, the New York City Ballet Diamond Project, Mannheim Ballet, Germany; Stuttgart Ballet, Germany; Les Ballets de Monte Carlo, and the Merce Cunningham Dance Company. King's string quartets have been performed by the Eclipse and Mondrian quartets, as well as his own Crucible Quartet.
King's work include FCA-supported ars imitatur naturam (2014) at Brooklyn Academy of Music's Harvey Theater, Free Palestine (2014) string quartets performed by Secret Quartet at Roulette, and the release of his solo guitar work Overtones for the Underdog (2015). With the support of his Grants to Artists award, King also produced Piano Vectors I and II (2015).
King has written three operas: herzstück/heartpiece, based on the text of Heiner Müller with Krzysztof Knittel which premiered at the 1999 Warsaw Autumn Festival and The Kitchen in 2000; la belle captive based on texts by Alain Robbe-Grillet, premiered at the Teatro Colón Experimentation Center in Buenos Aires in 2003; and his most recent opera, Dice Thrown, based on the Stéphane Mallarmé poem, was performed by the New York City Opera as part of its VOX series in 2008. The complete staged version was presented at CalArts in 2010. King's CD releases of music for string quartet include Ethel (2003), AllSteel (2006), and 10 Mysteries (2010).
Since receiving his FCA grant, King was selected for The Bellagio Center Arts & Literary Arts residency (2016). Prior to his 2014 Grants to Artists award, King received grants from the New York Foundation for the Arts (1983), the New York State Council on the Arts (1989), the Meet the Composer Commissioning Fund (2002), and an Alpert Award in the Arts for Music (2009).
King received a B.F.A. from California Institute of the Arts in 1976 and is an associate adjunct professor in the McGhee Division at New York University. He served as music curator at The Kitchen from 1999 to 2003, and from 2002 to 2011 was a co-director of the Music Committee at the Merce Cunningham Dance Company.