Laura Ortman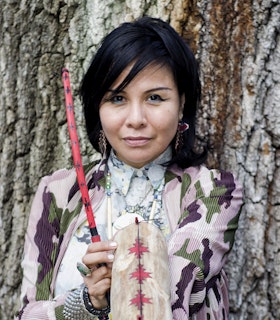 Artist Statement
I would describe my work as sculpting sound. With music, I build textures, atmospheres, and emotions towards where I am, who I am working with, and where the sound will arrive in the recording or performance.
Studying.
My collaborations often come together through the magnetic, beautiful energy of friends and community in the Indigenous arts. Art, music, poetry, film, dance, and beyond.
We always find each other.
- January 2022
Biography
A member of the White Mountain Apache tribe, Laura Ortman is a musician and composer who creates across multiple platforms, including albums, live performance, field recordings, and video works. As a soloist, Ortman performs on amplified and Apache violin, vocals, piano, electric guitar, and keyboard.
Ortman's My Soul Remainer (2017)—which exists as a freestanding composition, solo album, and a video collaboration with director Nanobah Becker—combines elegiac violin melodies, orchestral samples, and the urgent pandemonium of amplified violin. In the video work, Ortman performs each of these musical voices within landscapes of the desert Southwest, plucking and stroking her violin by a rocky stream, in a forest clearing, or against distant mountains. The video iteration of My Soul Remainer was included in the Whitney Biennial, New York, NY (2019), at which Ortman also presented a performance celebrating the summer solstice.
In 2008, Ortman founded the Coast Orchestra, an all-indigenous orchestral ensemble. She has also collaborated with artists such as Tony Conrad, Jock Soto, Raven Chacon, Okkyung Lee, and Jeffrey Gibson.
She has performed and presented work nationally and internationally at The Museum of Modern Art, New York, NY (2021); the Whitney Museum of American Art, New York, NY (2019); the imagineNATIVE Film and Media Arts Festival, Toronto, Canada (2017, 2011); Musée d'Art Contemporain de Montréal, Montréal, Canada (2017); and the Centre Pompidou, Paris, France (2009).
Ortman is the recipient of the United States Artists Fellowship (2022); a Jerome Foundation, Jerome at Camargo Residency (2020); the Native Arts & Cultures Foundation, National Artist Fellowship (2016); and a Robert Rauschenberg Foundation Residency (2014).