Okkyung Lee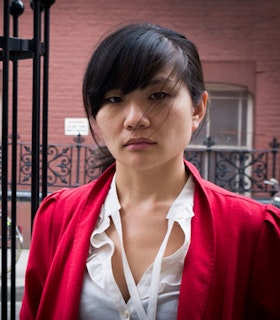 The timing of this grant couldn't have been better. It came at a point when I was seriously thinking about whether what I was doing musically was worth all the struggles, especially in New York... When I received the news, I felt the sense of the bigger artistic community, with affirmation that came directly from artists whom I respected and admired. I thought I might be doing something right after all.
- Okkyung Lee, December 15, 2010
Artist Statement
About eleven years ago I realized that there was something beyond the boundaries of musical vocabulary that existed throughout my musical education. It was something that I never learned, was never exposed to, nor even considered as a part of music. However, when I was accidentally pushed into using it, it had so much emotional resonance and honesty and most of all, it made me feel finally connected to music and my cello after more than twenty years of playing and composing. I even admitted that I loved music after all.
- December 2009
Biography
Okkyung Lee is a composer and musician. She has been developing her own voice in a contemporary cello performance, improvisation, and composition for more than a decade by blending her wide interests and influences. Lee's work spans genres, drawing upon noise, extended techniques, jazz, and traditional Korean music.
Since moving to New York in 2000, Lee has released more than twenty albums and collaborated with numerous artists including Laurie Anderson, David Behrman, John Butcher, John Edwards, Douglas Gordon, Vijay Iyer, Mike Ladd, Christian Marclay, Thurston Moore, Ikue Mori, Zeena Parkins, Marina Rosenfeld, Jim O'Rourke, and Evan Parker. Her selected works include Nihm (2005), Check for Monsters (2009), with Steve Beresford and Peter Evans; and I saw the Ghost of an Unknown Soul and it Said (2009). With support from her 2010 FCA grant, Lee was able to tour her work to new audiences and collaborate with musicians abroad. After receiving her Grants to Artists award, Lee released Noisy Love Songs (for George Dyer) in 2010.
Lee's performances include Untitled (White Night) which premiered at The Kitchen in 2007, and There, Then That Corner…, which premiered at Roulette in 2007. In November 2013, Lee curated the 27th edition of Music Unlimited Festival in Wels, Austria titled "The Most Beautiful Noise In The World."
Following her FCA support, Lee received a Doris Duke Artist Award (2015). Prior to her 2010 Grants to Artists award, Lee received a Meet the Composer MetLife Creative Connections Grant (2007) and a composer commission from New York State Council On The Arts (2007).
Lee received a B.M. from Berklee College of Music in 1998 and an M.M. from New England Conservatory of Music in 2000.