Shelley Hirsch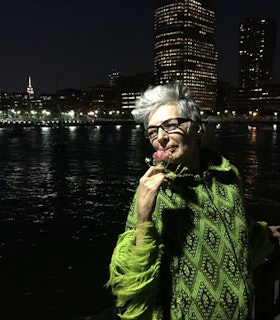 I presented a choral iteration of [Book-Bark-Tree-Skin-Line] with a group of ten performers-singers and singer/musicians, a speaker and a visual artist during my five-day residency at Madison Square Park from 22-26 August. I also gave free workshops in the park during the residency... The money also enabled me to travel to Europe in November to see the work of my friend and collaborator Ursula Scherrer in Switzerland... While there I also met with a woman who is interviewing me for a book she is writing about interdisciplinary women artists over 50. I also met with the director of a gallery who will host a residency next year. As well I visited a collaborator in Brussels and taught two days of workshops at a venue Qo2 where I will be an artist in residence 2018.
- Shelley Hirsch, December 20, 2017
Artist Statement
I grew up in an apartment building in East New York, Brooklyn.
I remember my father coming home after a long day of manual labor, putting records on the turntable, and creating enchantment. I remember capturing a piece of a remembered song that we danced to, and singing it in the reverberant hallways. I was fascinated by how the sound transformed as I moved through different locations in the building and out onto the street, recycling narratives while collecting sonic and visual images along the way.
My work today, conjuring locations, landscapes, personas, finding language, streaming consciousness, forming stories—is an extension of these childhood investigations, which I channel through my compositions, improvised vocal performances, staged multimedia and site-specific pieces, narrative radio plays, and sound installations. The work reverberates in real and imagined places inside and outside of the body which is my recorder, and the storage house of memory.
- December 2016
Biography
Shelley Hirsch is a vocalist, composer, improviser and storyteller whose solo compositions, staged multimedia works, improvisations, radio plays, installations, and collaborations have been presented in concert halls, clubs, festivals, theaters, museums, galleries, and on radio, film, and television. Her work has been presented on five continents and she has been heard on over 70 recordings.
Hirsch's notable works include O' Little Town of East New York, a multimedia autobiographical musical which was staged and produced at Dance Theater Workshop (1991), and was later adapted for radio winning the Prix Futura at the International Media Competition in Berlin; For Jerry, a virtual duet with the late techno-mystic Jerry Hunt, which was performed at the Whitney Museum of American Art, and later evolved into a performance installation with 33 hanging monitors, coproduced by the Marstall and Hebbel Theatres in Munich and Berlin (1999); and the solo composition States, which was performed at Alice Tully Hall (1999) and expanded to include a chorus at the Golden Mask Festival in Moscow, Russia (2016).
Hirsch has collaborated with visual and new media artists on a number of works including The Passions of Natasha, Nokiko, Nicola, Nanette and Norma (1993) with Barbara Bloom at the Wiener Festwochen in Viena, Austria; All The Way With Jim and Shel (2002) with Jim Hodges at the Portland Institute of Contemporary Art, Portland; Alga, a visual installation by Ursula Scherrer exhibited at the Minoritan Chapel as part of the Donau Festival in Krems an der Donau, Austria (2012); and Zoom! Zoom!, an improvised duo by Christian Marclay for his onomatopoetic slide projections and Hirsch's vocals and storytelling, performed at the Hamburgerbahnhof Museum in Berlin, Germany (2016). Hirsch was music director of and actor in Zoe Beloff's 3D film installation The Somnambulists (2008), and she conducted her cut-up of Tomorrow for an LGBT youth choir as part of Felix Bernstein's Bieber Bathos Elegy at the Whitney Museum of American Art (2016). During her grant year, Hirsch participated in Josiah McElheny's Prismatic Park, an installation and residency project in New York City's Madison Square Park (2017).
Hirsch's albums include Singing (Apollo, 1987); Haiku Lingo (Review, 1989) composed with David Weinstein; O' Little Town of East New York (Tzadik, 1995); States (Tellus, 1997); Far In Far Out (Tzadik, 2002); Duets (Innocent, 2002) and Duets 10 Years After (Innocent, 2011) with Uchihashi Kazuhisa; Where Were You Then (Tzadik, 2012) with Simon Ho; and Berlin-Brooklyn (Rossbin, 2012) with Joke Lanz. Hirsch has recorded with the improvising ensembles September Band, Koch-Schuetz-Studer+Hirsch, X-Communication, and Public Servants. Hirsch has improvised in performance with Anthony Coleman, Fred Frith, Phill Niblock, Katherine Liberovskaya, Stephanie Skura, Yoshiko Chuma; as well as David First, Peter Stampfel, Jamal Moss, Billy Martin, Jim Staley, David Watson, John Zorn, Jon Rose, Nicolas Collins, Denman Maroney, Richard Teitelbaum, Alvin Curran, Arnold Dreyblatt, and David Moss. She is featured in films by Henry Hills, Abigail Child, Lee Sachs, and in Butch Morris's conduction on Derek Bailey's miniseries On the Edge.
Hirsch is the recipient of a John Simon Guggenheim Memorial Foundation Fellowship; a Creative Capital Grant; four fellowships from the New York Foundation for the Arts; the Ucross/Alpert Residency Prize; residencies at DAAD Berlin, Yaddo, and Harvestworks; and commissions from New York State Council on the Arts, Zweites Deutsches Fernsehen (ZDF), Kunst Radio, New Armerican Radio and Performng Arts, and The Donau Festival.
Her work is archived in the Downtown Collection of NYU's Fales Library.