Will Rawls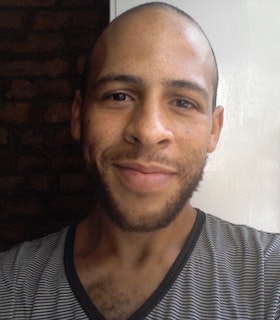 With the FCA funds, I had the means to push forward with my largest scale work to date, support two other projects, initiate a collaboration and live more stably while here in New York... with a sense of having strengthened and clarified my artistic practice. I couldn't ask for more than this. Going forward, I will further investigate and embrace how sound, language and dance interface with presenting and reconstructing personal and collective histories in live performance... Beyond the crucial gift of liquidity that the FCA Grant has provided, it has also given me an enormous vote of confidence as I make my way through the second decade of being an artist in New York. Sometimes it is quite challenging to feel courageous about doing the work I do because I know so well the precariousness and stress that comes along with it. The FCA Grant has been both affirming and grounding, helping me confidently reach for more and while putting one foot steadily in front of the other.
- Will Rawls, January 11, 2016
Artist Statement
I'm restless and idealistic so dance continues to be an enduring resource in my life. It drives my perception of the world as a fluctuating embodied experience. My choreography serves as a frame for this flux, lending form to time, meaning, desire, doubt, and resistance. To this day, choreography feels impossible and risky and therefore worthy of pursuit. Performance is where I'm asking others how we share and construct a vital, imaginary world together. I see it as part of our political process. It's my nature to orchestrate these ideas with a measure of play and fantasy.
Writing, dancing, drawing, installing, sculpting, and vocalizing are critical elements of my practice. These activities support my belief that multiplicity, otherness, and ambiguity are powerful strategies that are constantly in conversation. Over time, my choreography bridges the body and other media, seeking a language that is non-disciplinary and deeply excavated. Each work aims to underscore a principle of aesthetics that is contingent upon histories, past, present, and emergent. Lately I'm interested in folklore and collective memory as rich grounds for choreographing performances of identity and affect. Rigorous dialogue with artistic comrades and other choreographers has been crucial for my growth.
- December 2014
Biography
Will Rawls is a choreographer, performer, and writer exploring the instability of identity and form afforded by live performance. Curious about the ambiguous nature of dance as a medium, his choreographic practice employs movement, often in conjunction with text, objects, and other media, to reconsider how personal and cultural histories are embodied, resisted, and reconstructed.
With the support of his FCA grant, in 2015 Rawls presented three new works: #loveyoumeanit, at Danspace Project's PLATFORM 2015: Dancers, Buildings, and People in the Streets, curated by Claudia La Rocco; Personal Effects, a solo performance that for Performa 10; and Settlement House, a choreographic installation for the 100th Anniversary of the Henry Street Playhouse and the Abrons Arts Center. #loveyoumeanit was a collaboration with former New York City Ballet dancer Kaitlyn Gilliland that, Rawls notes "touched on themes of intimacy body dysmorphia, digital estrangement, and the dynamics of race, gender, age, and dance training." Personal Effects, Rawls explains, "is a series of scores in which I am singing, dancing and uttering bits of text comprising my history as a performer." For Settlement House Rawls choreographed and directed a three-hour installation and performance with nine collaborators—five dancers, one sculptor, one writer, one singer/composer, and a lighting designer. Rawls explained that Settlement House drew on "Henry Street's 100-year involvement with the local residents, immigrant communities and performing artists that have populated the Lower East Side."
Prior to his 2015 Grants to Artists award, Rawls premiered The Planet-Eaters at The Chocolate Factory Theater in 2013. His other choreographic work had appeared at Dance Theater Workshop, Danspace Project, Dixon Place, the Brooklyn Museum, Tanzquartier Wien, Mount Tremper Arts, and Williams College, among others. From 2006 to 2013, Rawls collaborated with Kennis Hawkins on the performance duo Dance Gang working in public spaces and galleries, including MoMA PS1, dOCUMENTA (13), various Brooklyn parks, ISE Cultural Foundation, Dance Theater Workshop, and Performance Space 122. As a dancer, he has worked with Jérôme Bel, Brian Brooks, Alain Buffard, Maria Hassabi, Noemie LaFrance, Nicholas Leichter, Neal Medlyn, David Neumann, Shen Wei Dance Arts, and Katie Workum. Rawls has also been an interpreter for Tino Sehgal and has re-performed works by Marina Abramović.
Rawls is co-editor of Critical Correspondence, Movement Research's online publication, focusing on developments in contemporary dance practice and thought, in New York City, nationally and internationally. Recent and upcoming publications include Dog Years (2014), Leap of Fake: Speculations on a Dance as Doubting (Scores 4, Tanzquartier Wien), and Mirror Mirrored: A Contemporary Artist's Edition of 25 Grimm's Tales.
Prior to his 2015 Grants to Artists award, Rawls received residencies and fellowships from danceWEB (2008), Mount Tremper Arts (2010), and The MacDowell Colony (2013). He was a 2014 Process Space Artist with the Lower Manhattan Cultural Council, and joined Lower Manhattan Cultural Council's two-year, Extended Life fellowship program in 2015.
Rawls has been a guest artist at Bard College, Barnard College, Williams College, and a mentor for Colorado College's Department of Theatre and Dance. Rawls graduated with a B.A. in Art History from Williams College in 2000.