Doug Henderson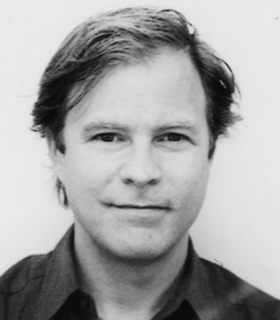 The experience has been, without question, life changing. The unrestricted nature of the FCA award is one of its shining features. So many grants today are tied to spending restrictions that can hamper a project or render it unapproachable... Most artworks do not behave well—they rarely obey schedules or spreadsheets, they are impractical, demanding, and their demands shift constantly. By its nature the FCA award acknowledges the process of art-making and offers the sort of unqualified support needed to advance the work.
- Doug Henderson, January 15, 2008
Artist Statement
What I am pursuing are things I can't imagine; discovering and charting a territory of the extra-imaginary. Concurrently I am fascinated by the potential for making shapes out of sounds, using multiple speaker arrays to develop a form of sonic holography. I am interested in how auditory focus reorganizes sound. So, for example, I take hundreds of recordings of some simple action and pile them up until an instant of transformation arrives, wherein the literal dissolves and a new identity is raised. Or I may look inward at a cumulative event, like a rain shower or wind in the trees. I dissect it one drop, or one leaf at a time, to discover a hyperreal lens for the world.
As I look at the general trajectory of my work in the past twenty years, it starts with sound compositions, which become installations, which then transform into sculptural installations and free-standing sound sculptures, and most recently kinetic sound sculptures involved with light projection and environment. I see all this as heading in a theatrical direction, where the sculptures become actors, sharing a stage with the encounterer.
I have been focusing on breaking down the boundaries between sculpture and sound, light and movement—to experiment with the ways each can inform the other, depend upon the other, and combine to create a new, hybrid art form. I want to document the point at which the sound from an object is no longer separable from the object itself, and the ways in which a soundtrack can turn a sculpture into a time-based artwork. This drives me to lead the works into different relationships with the audience, using light and shadow, placement and architecture, to fix the public inside the work itself.
- December 2014
Biography
Douglas Henderson is a sound artist whose work spans all aspects of the medium, from electroacoustic sound compositions to sculptural works and installations. He harnesses the energies of sound both as a sensual medium and as a culturally charged fabric of social implications. He has performed original work in the United States and Europe and in the 1990s he toured with experimental punk/noise bands Spongehead and Krackhouse.
Henderson has collaborated with a variety of artists and musicians, including Kristin Lucas, Ikue Mori, Zeena Parkins, David Scher, Jude Tallichet, and John Zorn. He has composed extensively for modern dance choreographers such as Yvonne Meier, Jennifer Monson, Jeremy Nelson, Meg Stuart, and David Zambrano, as well as for Phoenix Dance Theatre in Leeds, Ricochet Dance in London, and Wildadance in Denmark.
Henderson's works prior to his 2007 Grants to Artists award include An Ear For A Leg, Galapagos Art Space, Brooklyn (2000); Painstake, Step Right Up, Sight Unseen, Bridge of Fools, If/Then, and when you lose something you can't replace, Danspace Project (2000, 2001, 2002, 2003, 2005, 2006); Zippo, Ricochet Dance Theater, London (2001); A Pocketful of Lies and Projekt Guernica, Dansescene, Copenhagen (2002); Half Urge, Dance Theater Workshop (2003); The Fact That it Goes Up, Saddler's Wells, London (2003); Optimism, Pierogi Gallery (2003); They are not Falling, Performance Space 122 (2005); The Cycle of 10,000 things, Roulette (2007); and All Together Now, Intimate Strangers Festival, Brusells (2008). His works have also appeared in galleries and museums internationally including the Whitney Museum of American Art (2005), Art in General (2005), and Diapason Gallery (2003, 2007).
With support from his 2007 FCA grant, Henderson created a full-length concert of electroacoustic compositions at Roulette. He also presented the solo exhibitions playback. no rewind button at daadgalerie, Berlin in 2007 and Music for 100 Carpenters at Pierogi Gallery in 2009. Subsequent to his 2007 Grants to Artists award, Henderson has presented work at ArtForum Berlin (2009), quartier21 (2010), and MARTa Museum in Germany (2012), among others.
Before his 2007 FCA grant, Henderson had received Meet the Composer Commissioning Grants (1987, 1988, 1991, 2004), grants from the Mary Flagler Charitable Trust (1989, 1998, 1999), and a New York Dance and Performance "Bessie" Award for Kriyas, in collaboration with composer Guy Yarden and choreographer Mia Lawrence. He was commissioned to create and present pages of illustrations (2005) for the Whitney Museum of American Art and Tickertape (2005) for Art in General. Henderson was a 2007 DAAD Berlin Artist-in-Residence, and extended his residency with FCA grant funds. Since his 2007 Grants to Artists award, Henderson has been recognized with a Rockefeller Foundation MAP Fund Grant for Music for 100 Carpenters (2008), a Gigaherz Prize for electroacoustic music (2012), and a Deutscher Klangkunst-Preis (2013).
Henderson graduated with a B.A. in Music Composition from Bard College in 1982. He earned a Ph.D. in Music Composition from Princeton University in 1991, studying under Milton Babbitt and Paul Lansky. He chaired the Sonic Arts department at the School of the Museum of Fine Arts, Boston from 2001-2002.