Leslie Cuyjet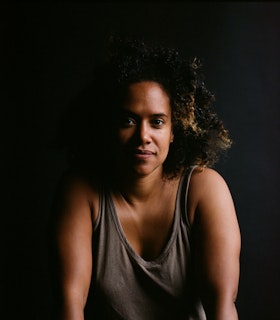 Artist Statement
I am exploring personal and dance histories through choreographic events that integrate text, video, and live performance. My dances speak to these histories, these lineages that cannot escape what outside forces project on my body and my skin. Simultaneously, I am unpacking eighteen years of being a performer in other artists' works; parsing together someone else's vision with a body that has its own technical dexterity, post-modern nuance, and compositional instinct; a body that is also curvy, unpredictable, aging, and black. I am chronicling the awesome and awkward experience of slipping through the cracks, through a liminal landscape that is unyielding, isolating, endless, fruitful, generative of its own language and understanding of the world. Pulling driving principles from my dance and performance experience, I am fine-tuning a form that is interdisciplinary and ongoing. Research—that includes a letter-writing project with my father, old home videos from the 1990s, and my movement practices based in Authentic Movement—drives the shape of my artistic practice.
- December 2021
Biography
Leslie Cuyjet is a performer, choreographer, and writer whose work interrogates the Black body's experience of post-modern and experimental forms. Her research-intense, interdisciplinary process draws on the rigor and principles of dance and performance while also critically examining the histories of these disciplines.
Cuyjet developed Blur for The Shed, New York, NY (2021) as part of the commissioning program Open Call 2021. Wearing a costume layered with magnified images of the artist's skin and performing in a phonetic landscape punctuated by her voice, Cuyjet's choreography teases the borderlines between visibility and invisibility, calling into question the roles of performer, audience, and object.
Cuyjet's works have been presented at The Kitchen at Queenslab, Ridgewood, NY (2021); Center for Performance Research, Brooklyn, NY (2020); and MoMA PS1, Long Island City, NY (2019). She is also known for her work as a performer with Will Rawls, Cynthia Oliver, Jane Comfort, Narcissister, Kim Brandt, a canary torsi/Yanira Castro, and Niall Jones, among other artists.
She has received the Hodder Fellowship from the Lewis Center for the Arts at Princeton University (2021-2022); the MacDowell Fellowship (2020, 2021); as well as a Foundation for Contemporary Arts Emergency Grant (2019). She has been supported by residencies at Movement Research, New York, NY (2021-2022, 2017); New Dance Alliance, New York, NY (2020); Center for Performance Research, Brooklyn, NY (2019); Yaddo Residency, Saratoga Springs, NY (2019); and Marble House Project, Dorset, VT (2019).
Cuyjet is co-editor of the Movement Research digital publication Critical Correspondence and a co-founder of the Authentic Movement collective Duvet. She holds a B.F.A. from University of Illinois at Urbana-Champaign.