Rhodri Davies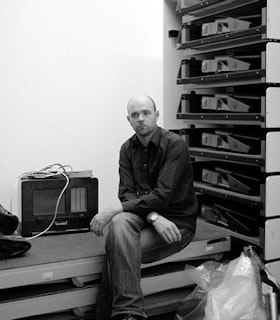 ... In buying me time away from intensive travel, I was able to apply a concentrated amount of time and focus that I have never had available to me in the past. This work culminated in the release of Wound Response, a limited edition vinyl record… I used the grant money to secure a label for the project, pay for artwork and design of the record, and time in the recording studio… The music on the album formed a big change of direction for me and I am convinced the recognition from FCA contributed to my confidence in pursuing this line of work.
- Rhodri Davies, December 14, 2012
Artist Statement
In my work I try to find different ways to sound harps and harp parts. I have done this by building wind harps, setting a harp on fire, recording rain on the soundboard, cutting and burning the strings on a concert harp, recording inside the harp, playing metal harp strings with dry ice, and dipping a harp with a hydrophone inside its sound-box into the sea.
These installation pieces and sound events have formed an extension of my practice in improvisational music as a soloist and as part of several collaborations. In that field I'm interested in treating the harp as percussion, exploring texture, experimenting with micro tuning, and in making as loud a sound as possible with what is traditionally considered a quiet acoustic instrument. I also work with silence, stasis, quiet thresholds, and duration. In all these manifestations I try to escape situations that are fixed, reified, or reactionary.
- December 2011
Biography
Composer and artist Rhodri Davies plays harp, electric harp, live-electronics, and builds wind, water, ice, dry ice, and fire harp installations. He has released four solo albums: Trem (2001), Over Shadows (2007), FCA-supported Wound Response (2012), and An Air Swept Clean of All Distance (2014). Davies is a frequent collaborator and the member of a number of groups. With John Butcher he produced Carliolo (2010) and with John Tilbury and Michael Duch he produced Cornelius Cardew: Works 1960-70 (2010).
In 2008, Davies collaborated with the visual artist Gustav Metzger on Self-cancellation, a large-scale audio-visual collaboration seen at Beaconsfield Art Gallery, London, United Kingdom; and The Arches, Glasgow, Scotland. Other exhibitions and performances have been seen at ARPIA (Art with Landscape) Herzele, Belgium; the Great North Museum: Hancock, Newcastle, United Kingdom.; and Bangor New Music Festival, Bangor, ME. New pieces for solo harp have been composed for him by Eliane Radigue, Phill Niblock, Christian Wolff, Ben Patterson, Alison Knowles, Mieko Shiomi, and Yasunao Tone.
Prior to his 2012 Grants to Artists, Davies held three residencies at Q-02 Workspace for Experimental Music and Sound Art in Brussels, and was an artist-in-residence at Hamburg Gastatelier Fleetinsel, Hamburg, Germany (2006).
Davies received a B.M. from the University of Sheffield (1993), a BTEC Diploma Foundation Course in Art and Design from Sheffield College (1994), an M.A. from the University of Huddersfield (1995), and a Postgraduate Certificate in Music from Trinity College of Music (1997).