Charles Atlas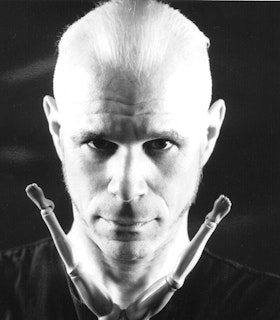 Artist Statement
My primary artistic medium is video, and by virtue of a taste for exploration and experimentation, my work has encompassed videotape, broadcast, installation, and live performance. Whatever the format, though, the animating interest to which I invariably return lies in the nexus of portraiture, performance (especially dance), and time. Although I have a deep interest in form and craft, the essence of my work resides ultimately in the relationships that develop with my subjects and my collaborators. My principle concerns and what I believe emerges in the creation of my works include (but are not limited to): truth to the situation/subject, precision, playfulness, reflection of contemporary life, color, multiplicity of meanings, and having fun.
Collaboration then has always been central to my practice. Over the years, I have worked with many different artists, and I have found that each collaboration possesses its own unique characteristics, and each imposes its own distinct process, one that demands that I engage in continual self-reflection in order to find new shadings or blends for my "voice" appropriate to the project. My long-standing collaboration with Merce Cunningham, which began in 1974, constitutes the "gold standard" by which I judge all the others.
From the beginning, I have been making portraits. From Mayonnaise (1973), film interpretations of several of Edouard Manet's painted portraits, to More Men (1980-2), a double-screen video portrait of my father and a host of fictional sons, to Hail the New Puritan (1986), a made-for-television "mockumentary" of a day in the life of Michael Clark, to Turning (2004-6), a concert-event with Antony and the Johnsons that incorporates live, projected video portraits of a select group of women—I have continued to explore the possibilities of time-based portraiture. I sometimes even think of my collaborations with choreographers and performers as "portraits" of their work.
As video technology has evolved, in 2003 I started to experiment with live electronic performance, and I have finally begun to understand what all of David Tudor's black boxes were meant to do. Using these new digital tools to compose and edit video in real-time has been challenging and invigorating, and has changed the way that I work and think about image creation. It has indicated new directions, and has already presented me with more possibilities than I care to think about.
- December 2005
Biography
Charles Atlas has been active as a filmmaker and video artist since the 1970s. He has created media/dance works, multi-channel video installations, feature-length documentaries, video art works for television, and live improvised electronic performances. He experiments with new technologies, making works that have moved from the highly flamboyant to the very minimal. Atlas is a pioneer of "video-dance," choreography created specifically for the camera.
Before receiving his first FCPA grant in 1981, Charles Atlas had collaborated exclusively with Merce Cunningham, working as the Merce Cunningham Dance Company's filmmaker-in- residence from 1974 to 1983. Amongst the films he created with Cunningham are Walkaround Time (1972), Westbeth (1974), Blue Studio: Five Segments (1975–76), Squaregame Video (1976), Exchange (1977), Fractions I (1977), Locale (1977), Torse (1977), Fractions I (1978), Romin' I (1978), Coast Zone (1982), Channels/Inserts (1982), Pond Way (1998), Melange (1999), Merce Cunningham: A Lifetime of Dance (1999), Views on Camera (2004), Eyespace 20 (2005), MinEvent (2005), Split Sides 45 (2005), Split Sides 46 (2005), Native Green (2007), Sounddance (2007), Suite for Five (2007), Summerspace (2007), Eyespace 40 (2008), Crises (2008), CRWDSPCR (2008), Interscape (2010), and Ocean (2010).
Atlas received an FCPA grant to support his independent work in 1981. He received the John Cage Award in 2006.
In addition to making his own films and video installations, Atlas has also undertaken numerous projects involving performing artists, including Yvonne Rainer, Michael Clark, Douglas Dunn, Marina Abramović, Diamanda Galá, John Kelly, and Leigh Bowery, Mika Tajima, and the New Humans. Prior to receiving his 2006 John Cage award, Atlas' work had been exhibited in the Hirshorn Museum, The Museum of Modern Art, and Museo Nacional Centro de Arte Reina Sofia, Madrid, among others.
Since receiving his 2006 John Cage award, his work has been featured in solo exhibitions and screenings at the New Museum, Institute of Contemporary Art/Boston, the Tanks at Tate Modern, Festival D'Automne, De Hallen Museum in Holland, and the Bloomberg Space in London. Additionally, his work has been shown in group exhibitions internationally at venues including Contemporary Arts Museum Houston; Centre Georges Pompidou, Paris; Musée National d'Art Moderne, Paris; Institute of Contemporary Arts, London; the Museum of Contemporary Art, Los Angeles; and Stedelijk Museum, Amsterdam. 
Atlas's film Turning (2014) features Antony and the Johnsons and explores themes of identity and performance. In 2015, Luhring Augustine presented Atlas's The Waning of Justice, which featured video of drag queen Lady Bunny and sunsets recorded during Atlas's residency at Captiva Island through the Robert Rauschenberg Foundation.
Since receiving his 2006 FCA grant, Atlas was honored with a Peabody Award for his direction of the PBS series Art:21 ("Power"). In 2012, Atlas was in residence at the Whitney Museum of American Art during the Biennial. Prior to his 2006 John Cage Award, Atlas had received a John Simon Guggenheim Memorial Foundation Fellowship (1998) and three New York Dance and Performance "Bessie" Awards, two in 1987 for Sustained Achievement in Video and Costume Design, and one in 1998 for The "Martha" Tapes.