David Thomson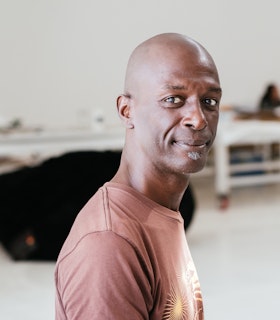 Artist Statement
I am continually searching for self and alterity, whether inhabiting my work or the landscapes of other artists. My desire to experience diverse aesthetic constructs is embedded in my history as an artist.
I am a wanderer.
I create work that has evolved into shifting relational containers of inquiry in performance and installation, focusing on the conundrum of identity as the connecting thread. From the confessional-booth intimacy of The Venus Knot (2015), which invites one-on-one dialogues regarding the source of one's identity, to The Voyeurs (2016), where the audience eavesdrops through their phones on a private conversation between callers negotiating their complex relationships surrounding violence, desire, race, and history. I see the transgressive and acts of destabilization as tools to question and reorganize reality, revealing the multiplicities within ourselves.
I have fallen into the mysteries of quantum physics as a metaphor for the poetics of presence, embracing the unseen as a palpable state of relations and possibilities. There is the desire to challenge the visual constructs of identity by offering an alternative form of personal transmission.
The thread of identity extends to The Sustainability Project, my response to the need for artists to develop personal stability and envision longevity in a society that prioritizes production over the person. A process of developing curriculum, dialogues, and self-reflection tools that empower individuals to redefine success for themselves. I believe in the potential of organic structures as guides to reconceptualize the arts ecosystem as an integrative model of care and relationality that is resilient, agile, and adaptive.
I recognize that this world is a complicated performance of reality constructs, values, and vulnerabilities. I strive to share these challenges within my work through an ongoing process that questions underlying assumptions to reimagine new possibilities.
- January 2022
Biography
David Thomson is an interdisciplinary artist whose practice borders on choreographic situations and installations centered around questions of identity, unconscious narratives, and the expression of presence and absence as performative states.
Thomson's Body of Work (2019) is an embodied confrontation with racialized violence in the United States. The choreography stages the tension between a lone figure and two other performers who trace her outlines in white chalk, which, in its evocation of crime scene contours, comes to represent inflicted harm, stasis, and the limitation of identity. Body of Work suggests movement as tantamount to the struggle for freedom and fluidity.
Another of Thomson's major projects began with Venus (2012), which became the impetus for a series of inter-related performances and installations: The Sessions (2013); Love Me (2014); The Venus Knot (2015); Chimaera (2015); The Voyeurs (2016); and he his own mythical beast (2018), which premiered at COIL Festival, Performance Space New York, New York, NY, with support from a Foundation for Contemporary Arts Emergency Grant (2018). Each work is a distinct interrogation of the mythologies and contradictions of identity, race, gender, desire, and the Black body in post-modern American culture.
Thomson has been supported or presented by The Kitchen, New York, NY (2019, 2001-2002, 1999); Movement Research at Judson Church, New York, NY (2018, 2015, 2013, 2012); The Bronx Museum of the Arts, Bronx, NY (2016); BRIC Arts, Brooklyn, NY (2016); Gibney, New York, NY (2015, 2013, 2010); and Danspace Project, New York, NY (2012, 2010, 2002), among other institutions.
Thomson has worked across the fields of music, dance, film, theater, and performance with Trisha Brown, Grisha Coleman|Hot Mouth, Ralph Lemon, Tracie Morris, Clarinda Mac Low, Marina Abramović, Meg Stuart, Alain Buffard, Yvonne Rainer, Maria Hassabi, and Okwui Okpokwasili, among others. In 2017, he and Kate Watson-Wallace initiated The Sustainability Project, which serves as a platform for expanding the discourse surrounding financial, artistic, and personal empowerment within the arts community.
Thomson is the recipient of awards and grants, including a New York State Council on the Arts Grant (2022) and a MAP Fund Grant and Jerome Foundation Grant for he his own mythical beast (2015). His work has also been recognized with New York Dance and Performance "Bessie" Awards for Sustained Achievement (2001) and for Outstanding Production for he his own mythical beast (2018).
He has been awarded residencies and fellowships, including the Robert Rauschenberg Foundation Residency (2018); a Yaddo Residency (2016); a MacDowell Fellowship (2014); a Gibney DiP Dance in Process Residency (2013, 2015); a New York Foundation for the Arts Fellowship in Choreography (2013); and the United States Artists Ford Fellowship (2012).
Thomson received his B.A. from State University of New York at Purchase. He is a Visiting Professor in Performance and Performance Studies at Pratt Institute.